About Gambeson
Gambeson actively used in medieval epoch Europe in XIV century. It came from an aketon, a suit jacket or a gambison (from the English Gambeson). Knights used medieval gambeson as an indispensable element of armor plate (under drawer) or as an independent armor.
Traditionally, parts of knights armor were attached to the gambeson sleeves by linen or silk cords. In different times, this kind of armor called as a "fighting jacket". Such armor outfit was an integral part of the knight's kit. Gambeson was as an underwear of a breastplates or chain mail.
As an independent armor Gambeson was made of thick materials (presumably, the material for it was leather). Sometimes leather gambeson had from 18 to 30 protective layers.
Let's try to understand what it is:
Gambeson in a broad sense is a padded jack, worn under or over an armour, or in a narrower context - quilted or printed fabric or leather long jacket, worn under the armour. It was also used as a separate kind of armour.

Aketon - (the term "aketon" comes from borrowing from the Arabic language al-qutn "cotton") is a cotton or linen jacket, worn under the armour, composed of several layers of thick cloth or leather, quilted together. It can be both short-sleeved, and even without them. Sometimes leather cords were sewn to the sleeves of aketon to fix the armour.

Doublet is a leather or fabric short jacket, worn under the plate armour. Unlike gambeson (in a narrow context) and aketon, doublet looked more like civilian clothes.

Pourpoint is a fabric short quilted jacket with a slim fit waist and puffed-up chest.

Jacques (jack) is multi-layer fabric short jacket, used as separate infantry armour. Sometimes it was worn over the mail armour.
For tailoring of the gambeson we use only natural materials. This provides not only sufficient level of protection, but also appropriate level of comfort.
Gambeson cut options and used materials will satisfy all over customers:
supporters of historical authority - reenactments

participants of SCA events

Larp - "Live Action Role-Playing" participants
The proposed site models take into account the various specifics of our gambesons. At the wish of the customer gambeson can be machine or hand sewing.
As a set for gambeson warp we offer different materials (colors available): linen, silk, cotton, wool, velvet, leather.
| | |
| --- | --- |
| linen | |
| silk | |
| cotton | |
| wool | |
| velvet | |
| leather | |
For the lining we use:
We can produce different types of them: short, long, sleeveless, short sleeved, closed-front.
| | |
| --- | --- |
| short | |
| long | |
| sleeveless | |
| short sleeved | |
| closed-front | |
Gambeson options: you can choose one or make your own design.
Gambeson could be ONE, TWO or FOUR colored combination.

If you wish historical (mottos, names of city or area) and free nature inscriptions can be embroidered on it.

Gambeson sleeves can be completely sewn, with a hole under the armpit or laced for better mobility.

Gambeson padding can be done vertically, rhomb-shaped or any other shape.

Gambeson bottom edge can be decorated with festoons with configuration selected by the customer.

In case if the gambeson must be fastened we offer a choice of buttons (metal, cast bronze with ornaments, buttons covered with cloth) or leather lacing.

It is possible to select the number of layers of padding (from 2 to 6) to create the gambeson of desired thickness.
Historical pause
Quilted vests were in use in Asian countries for a long time. However, European knights saw the true value of medieval under armour only in the XII-XIII centuries. Such clothing was called gambeson, aketon or doublet. All these types were rather similar in meaning, but had own characteristics and differences. For example, aketon could be worn under the main armour, and highly decorated thin gambeson was worn over the body defense. Sometimes it could be combined: sleeveless gambeson was worn over the aketon to reinforce its protective features.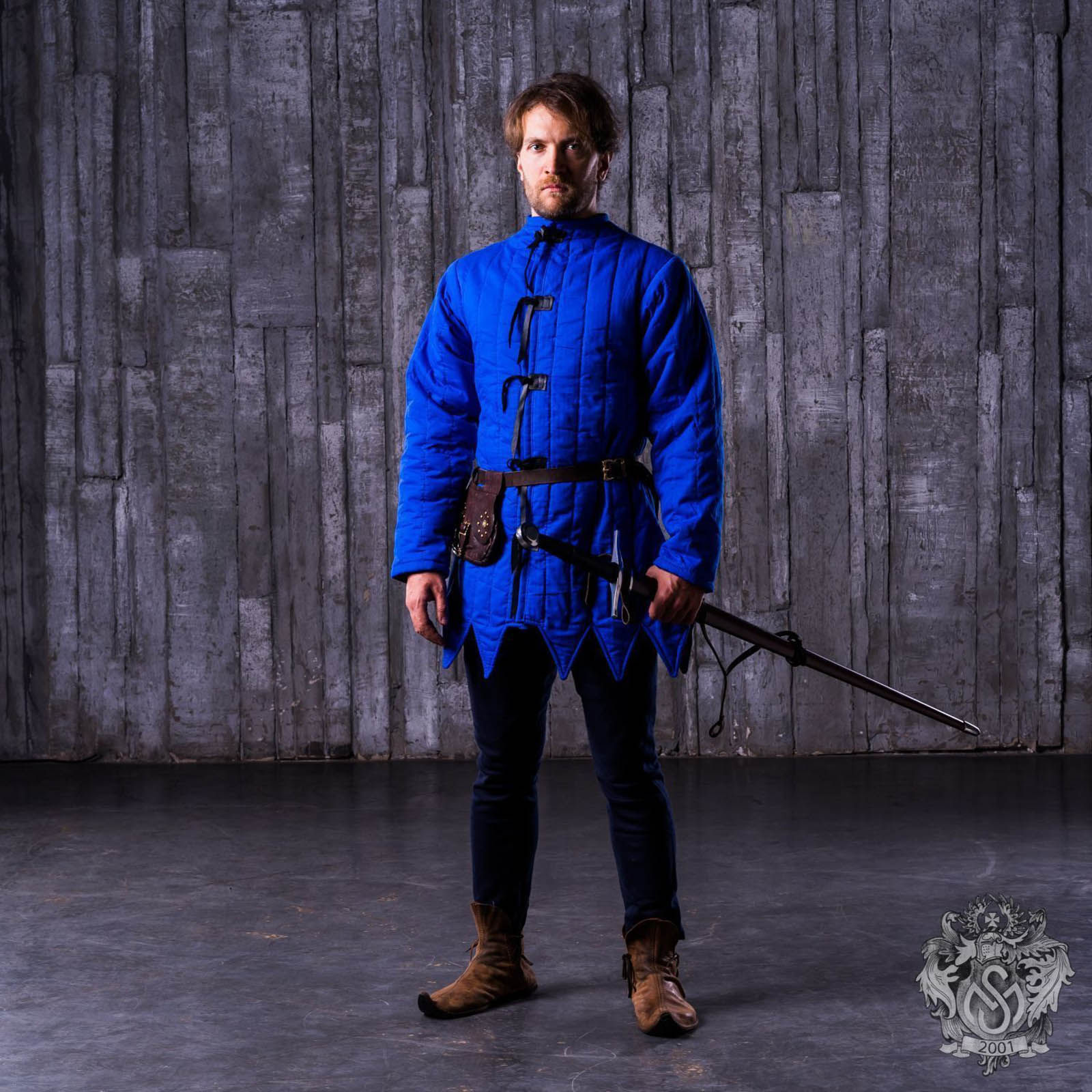 General feature of medieval under armour was design. There was rather thick jacket, which had vertical or horizontal quilting. Sleeves were puffed or flared a little. Their length could vary: some gambesons did not have sleeves at all. Cut of body part was straight or a fitted a bit. Gambeson was usually knee-length or had length to the middle of thighs. Bottom edge was plain or decorated with fancy festoons. Buttons, belts with buckles or simple strings served in place of fastenings. Collar of medieval jack was short or could be missing at all.
Such variety of models was explained by its functional purposes and depended on the main armour, which warrior was wearing over the medieval protection (chainmail, plate or combined armour). The necessity of gambeson was very high: it amortized power of a blow. Besides, weight of main armour was dividing better on the body of knight. It was common, when enemy's arrow hit the outer shell and stick into the thick gambeson without any harm for warrior.
Poor soldier, such as infantrymen, archers, crossbowmen, were hard up for full-plate body defense. Therefore, they had to be satisfied with medieval gambeson or aketon as the only budget-friendly protective clothing. They were adding quantity of layers of padding to increase protective properties of gambeson.
Many paintings of padded gambesons are survived, not only on the ancient frescoes, but also on the pages of old manuscripts. For example, there are stained-glass artworks in the church of St. Magdalene (Judenburg, Austria) or numerous illustrations in "The Morgan Bible" (also known as "Maciejowski Bible", XIII century). All of them are speaking for wide and common usage of quited gambeson in the medieval Europe.
Only few simple actions are required to buy gambeson armour, aketon or doublet:
1. Open the page of needed model;
2. Choose outer and inner fabric for you padded under armour and its colour;
3. Choose type of sleeve attachment;
4. Select your size;
5. Choose type of fastening;
6. Add leather fastenings for plate arms, if required;
7. Choose decoration;
8. Select quantity of layers of padding, depending on your main armour.
Every model is hand-made according to the medieval patterns and customer's individual measurements and regards.
Once you choose all options, add product to cart and make a payment. Then our manager will contact you with measurement request and specification of order's details.
If you ran into any difficulties with buying gambeson or you did not find required padded jack in this category, we can make it individually for you. Just send us picture with detailed description to sales@steel-mastery.com, so we could quote you and discuss details of order.