About Plate armor
Welcome to the section "Plate armor"! Here you can see dozens of various models of medieval metal armor: as separate parts from different historical periods and areas, so full sets of body protection.
This section contains 11 categories:

1. Medieval full suit of armor. Since prehistoric time people tried to protect their bodies from the blows of the enemy. On our site, you may choose more recent versions of protection, which remind about the era of kings and knights, of great tournaments and crusades. Even if you do not imagine yourself as one of the Knights of the Round Table, it is always possible to use our handcrafted armor for medieval interior.
In category steel full plate armor, you can see a variety of armor sets that were used in different eras. Examples of full plate armor are: the armor in Churburg style, steel English full plate armor, steel gothic full plate armor, as well as blued gothic full plate armour. Every item is handmade, are crafted ​​to individual customer's size, taking into account all wishes and regards.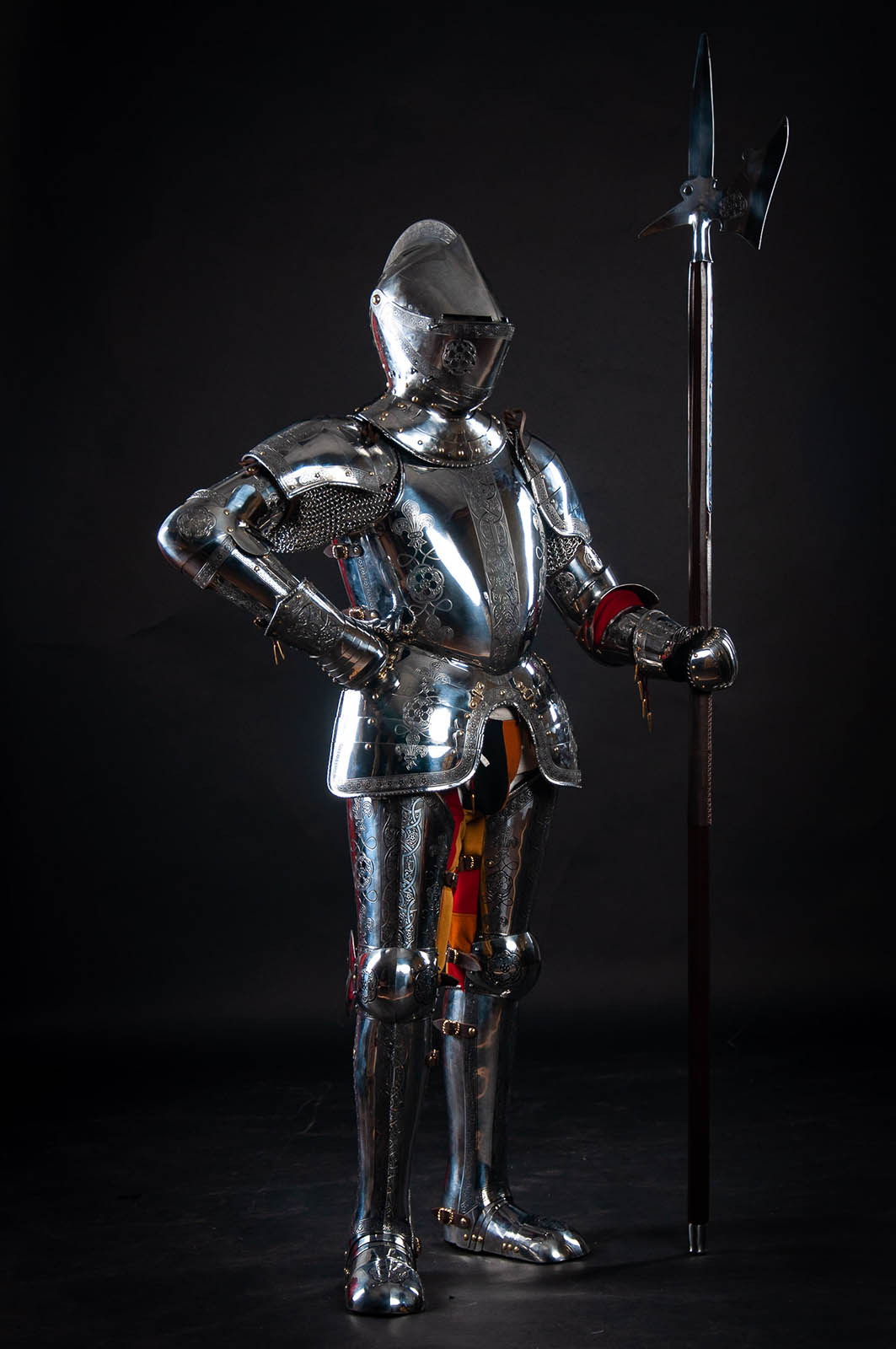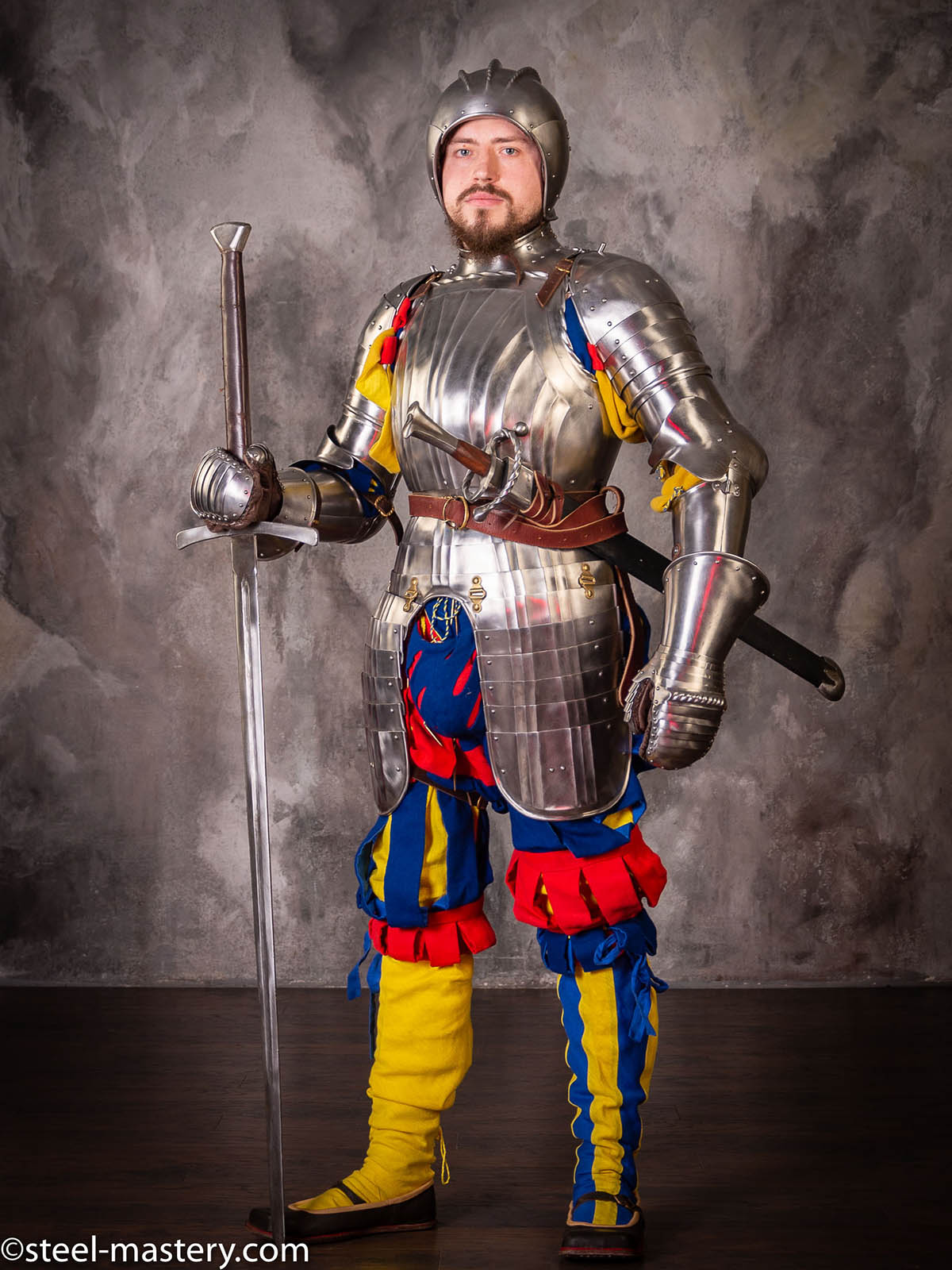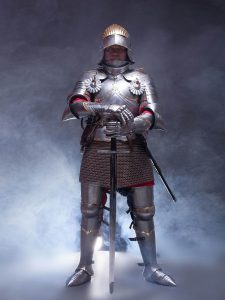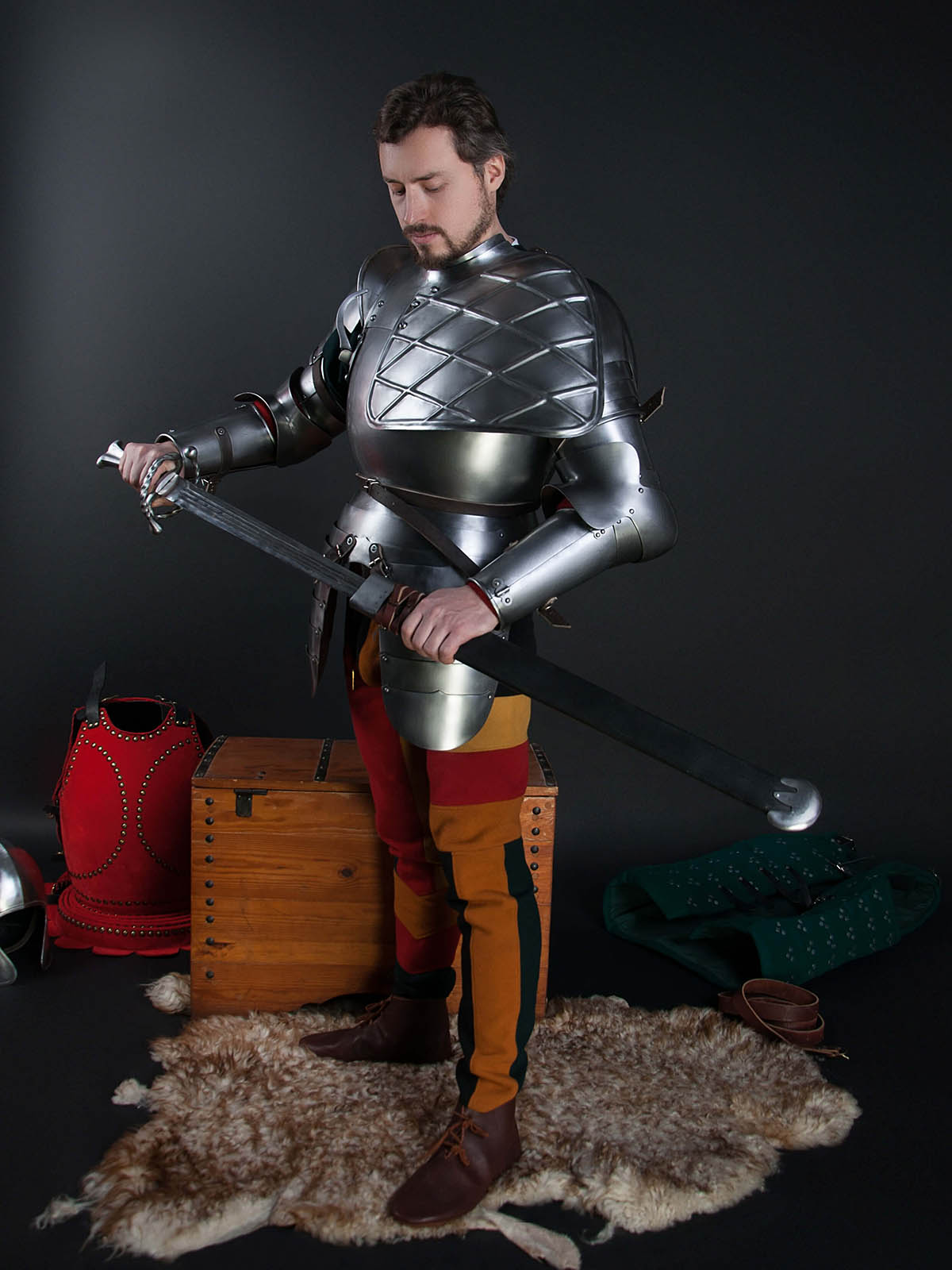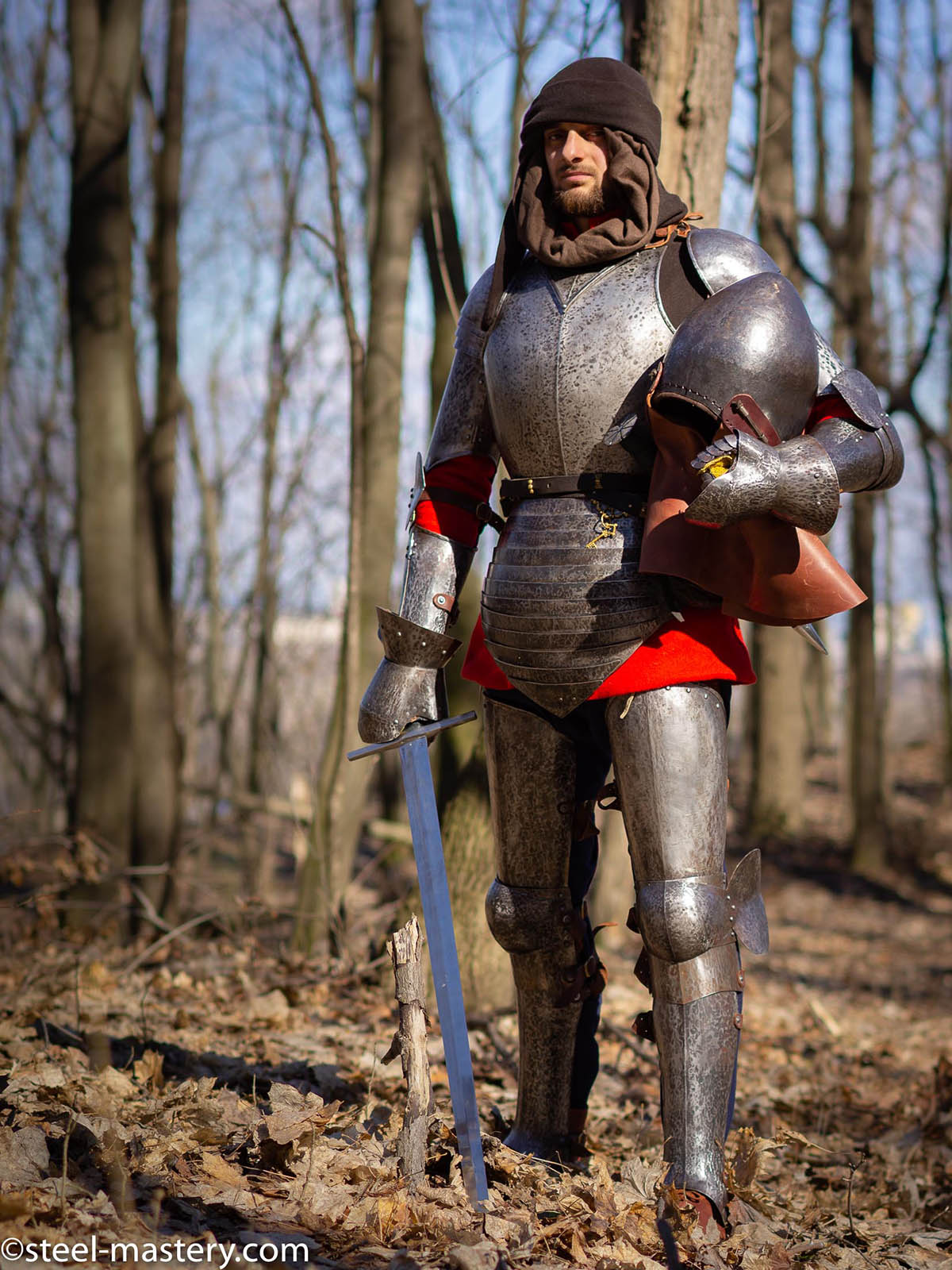 2.​ Helmets. Artfully manufacturing the metal, we offer a wide selection of helmets. In the primitive world, such products were too expensive, that's why for a long time helms remained inaccessible to most warriors. Now, looking at modern helmets made of composite materials with built-in radio transmitters and receivers, it is difficult to imagine that they were completely out of paper. We offer you wide range of medieval head armor: from the most simple helmets, such as kettle hat, chapel-de-fer, to the most difficult, but also incredibly beautiful helmets: "Sugarloaf helm", "Onion top bascinet with klappvisor", «Hounskull», Japanese helmet Kabuto and helmets with a variety of visors. All the helmets are handmade by our artisans by personal parameters of client.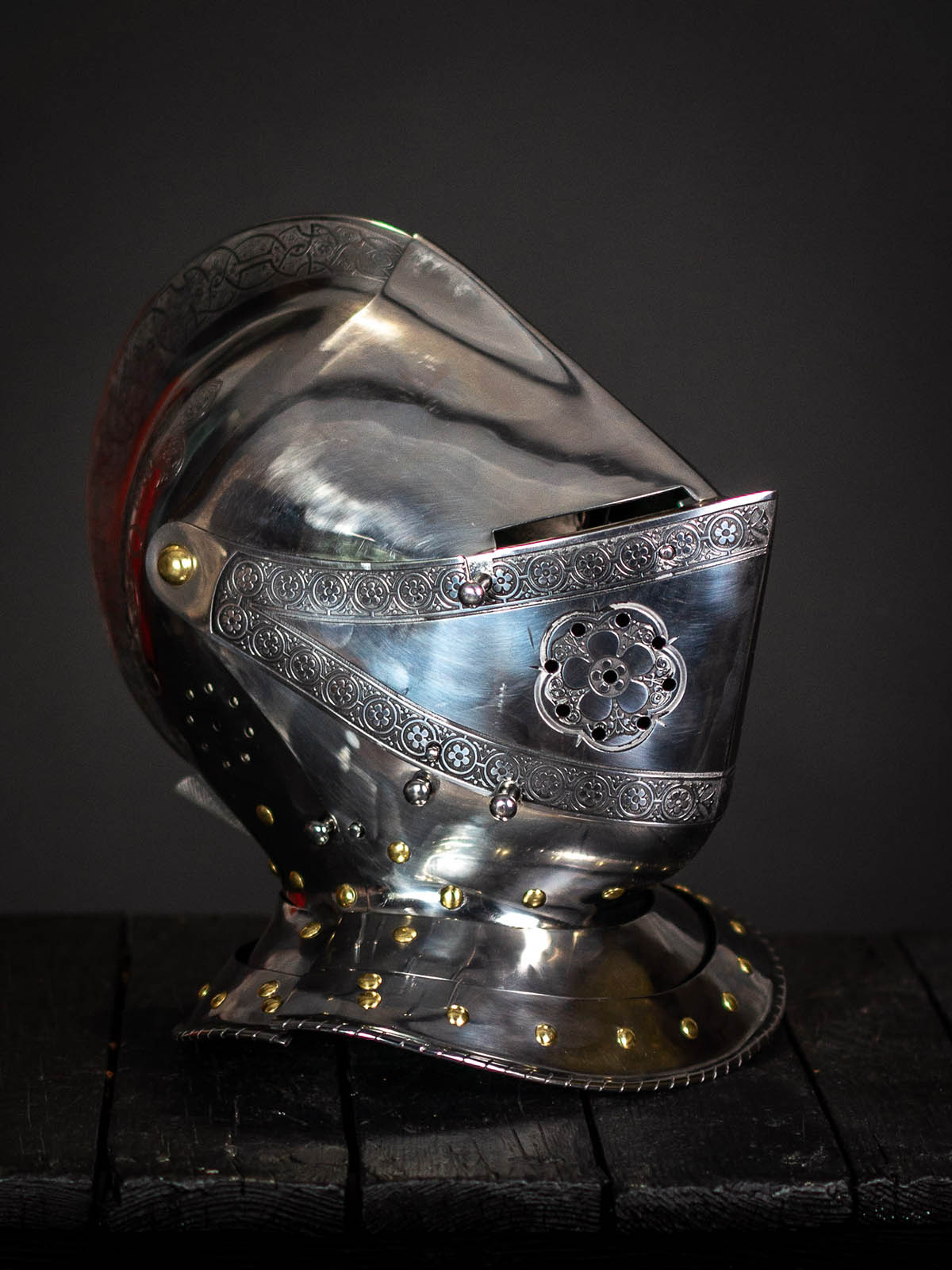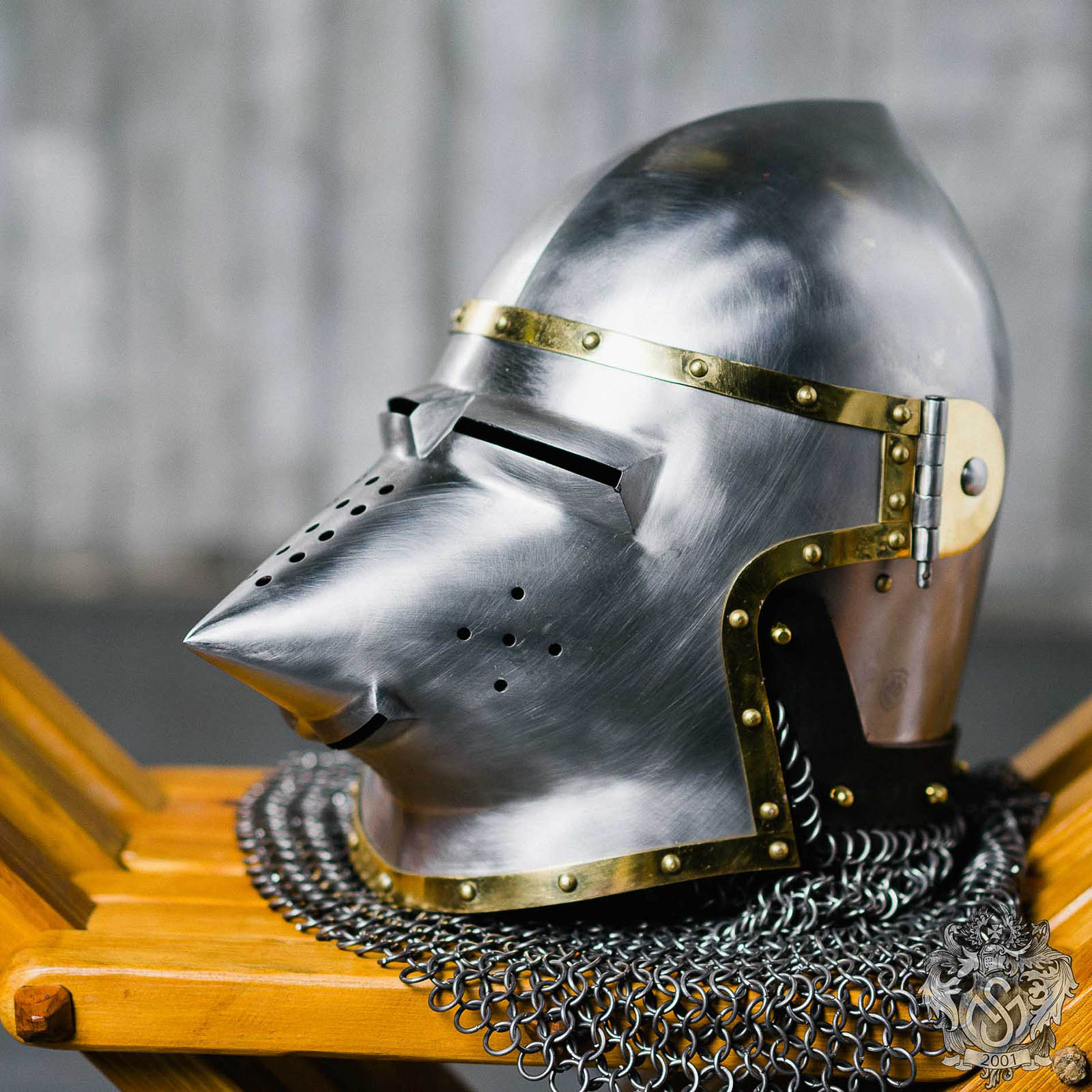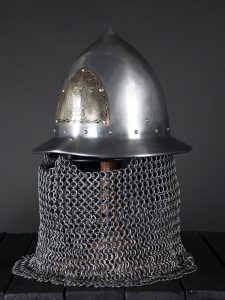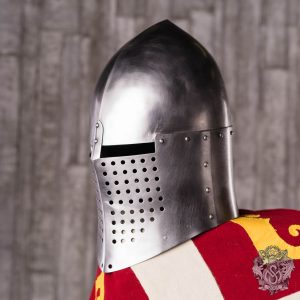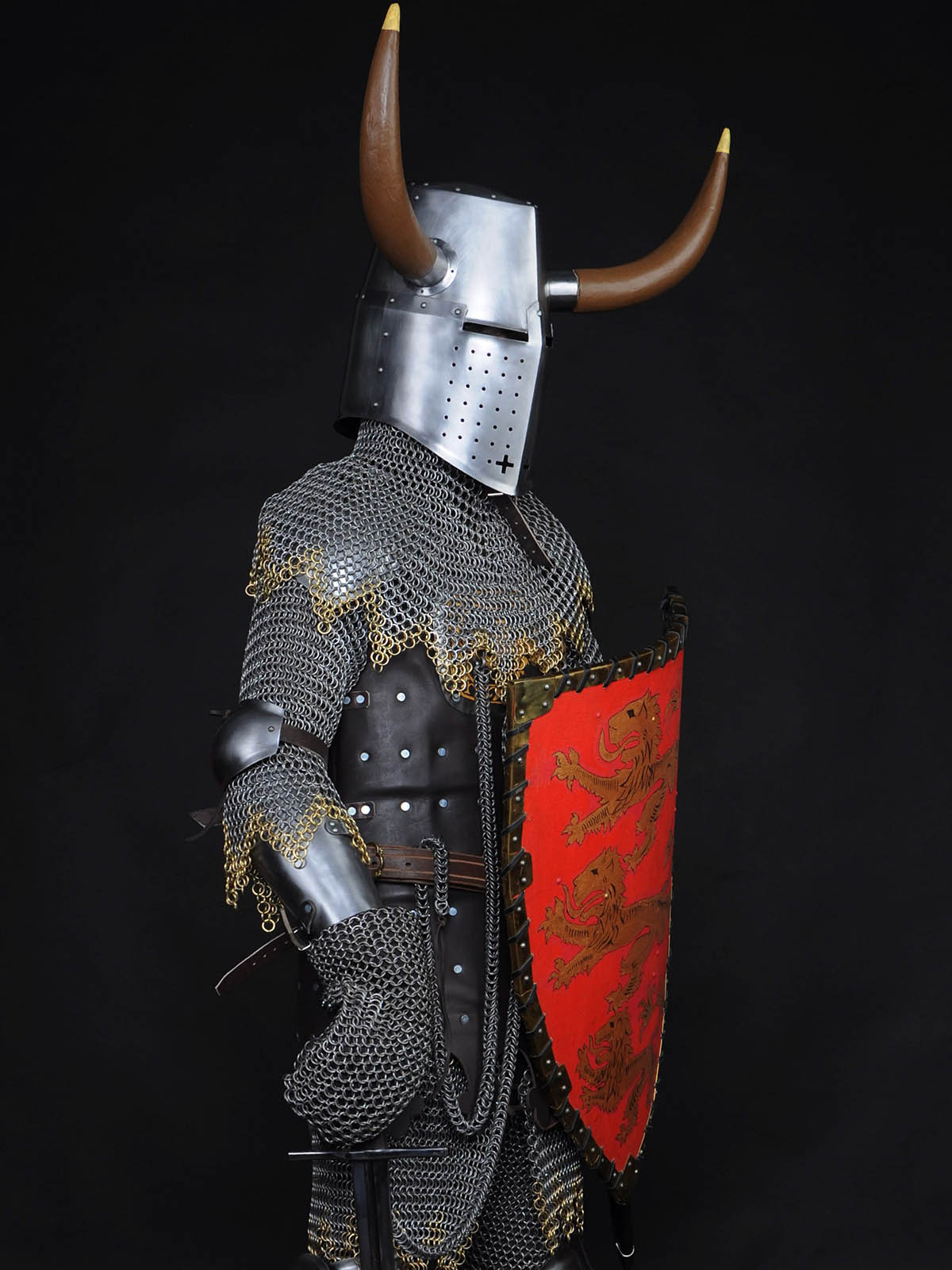 3. Cuirasses, breastplates and gorgets. Definitely, cuirass is one of the major components of the historical protective equipment that covers the torso of warrior. It may be crafted of either metal or leather. Medieval breastplates may serve both as an independent armor, so as a part of the set. While cuirass or breastplate protect the torso, such type of Middle Ages armor as gorgets (or bevor) is designed to protect chin and neck against swords and other bladed weapons. Usually, it was used together with helmet and plate body armour. Our site has a wide selection of cuirasses with or without skirt and tassets, breastplates and gorgets in Italian, English, Churburg styles.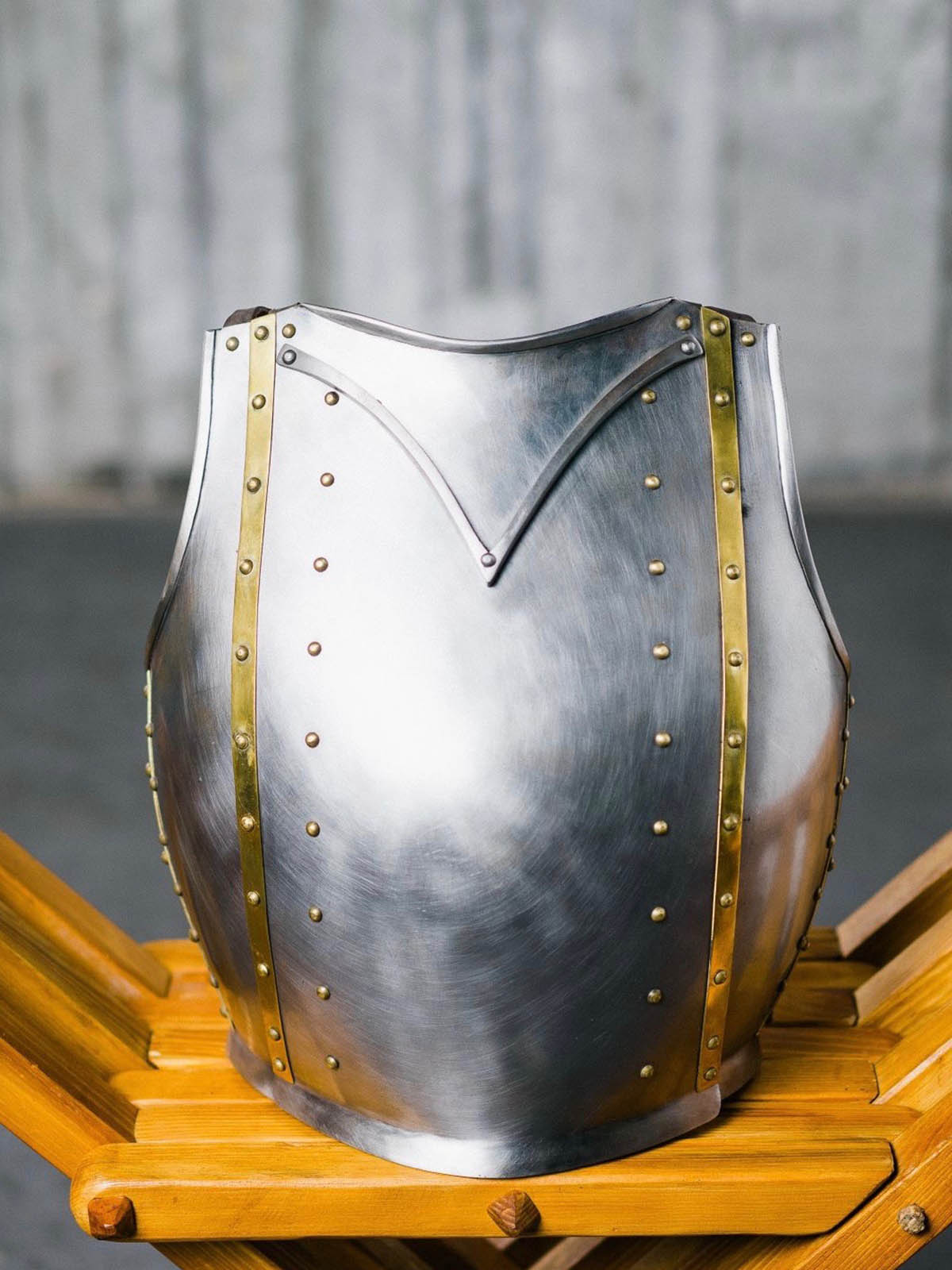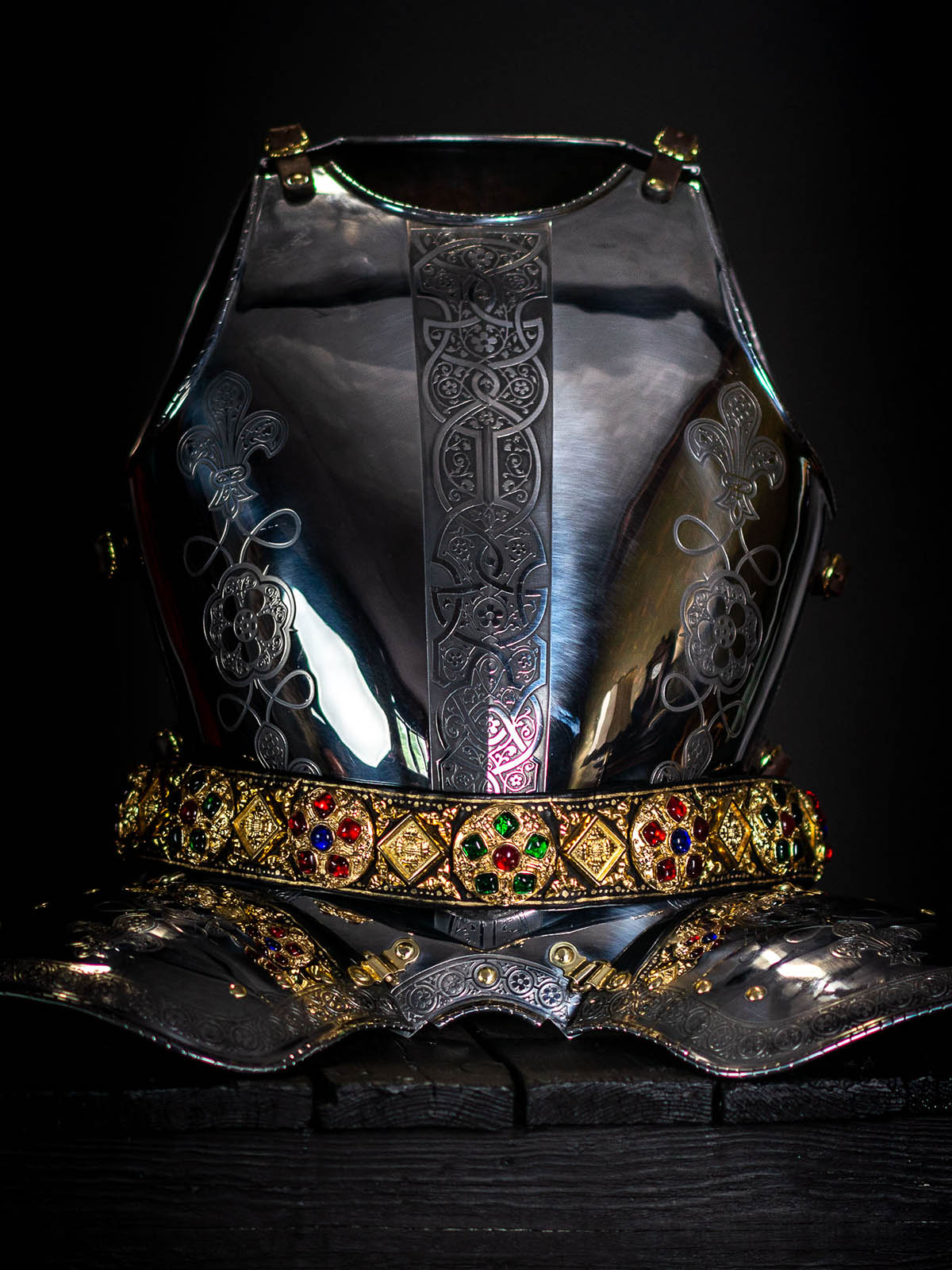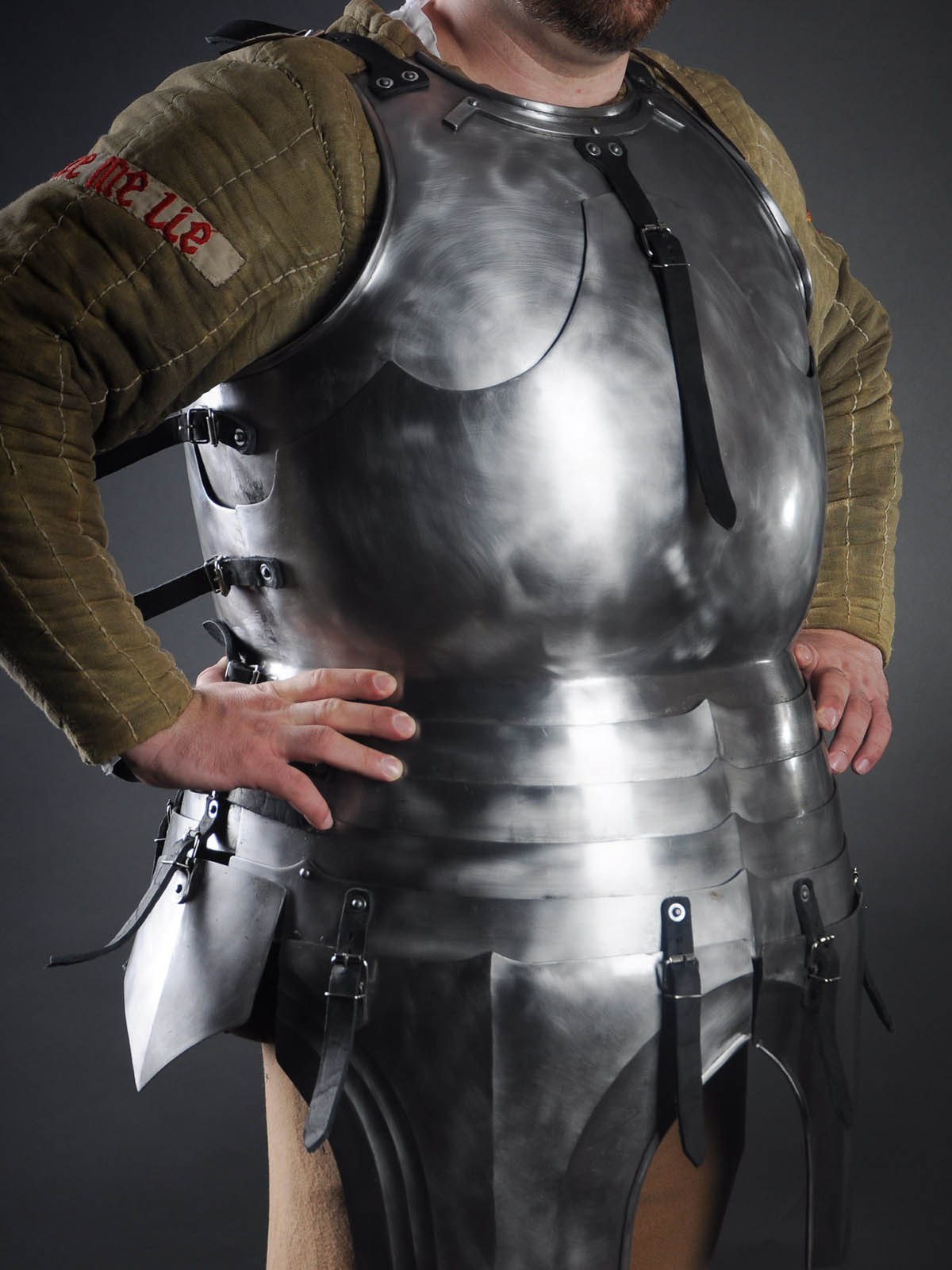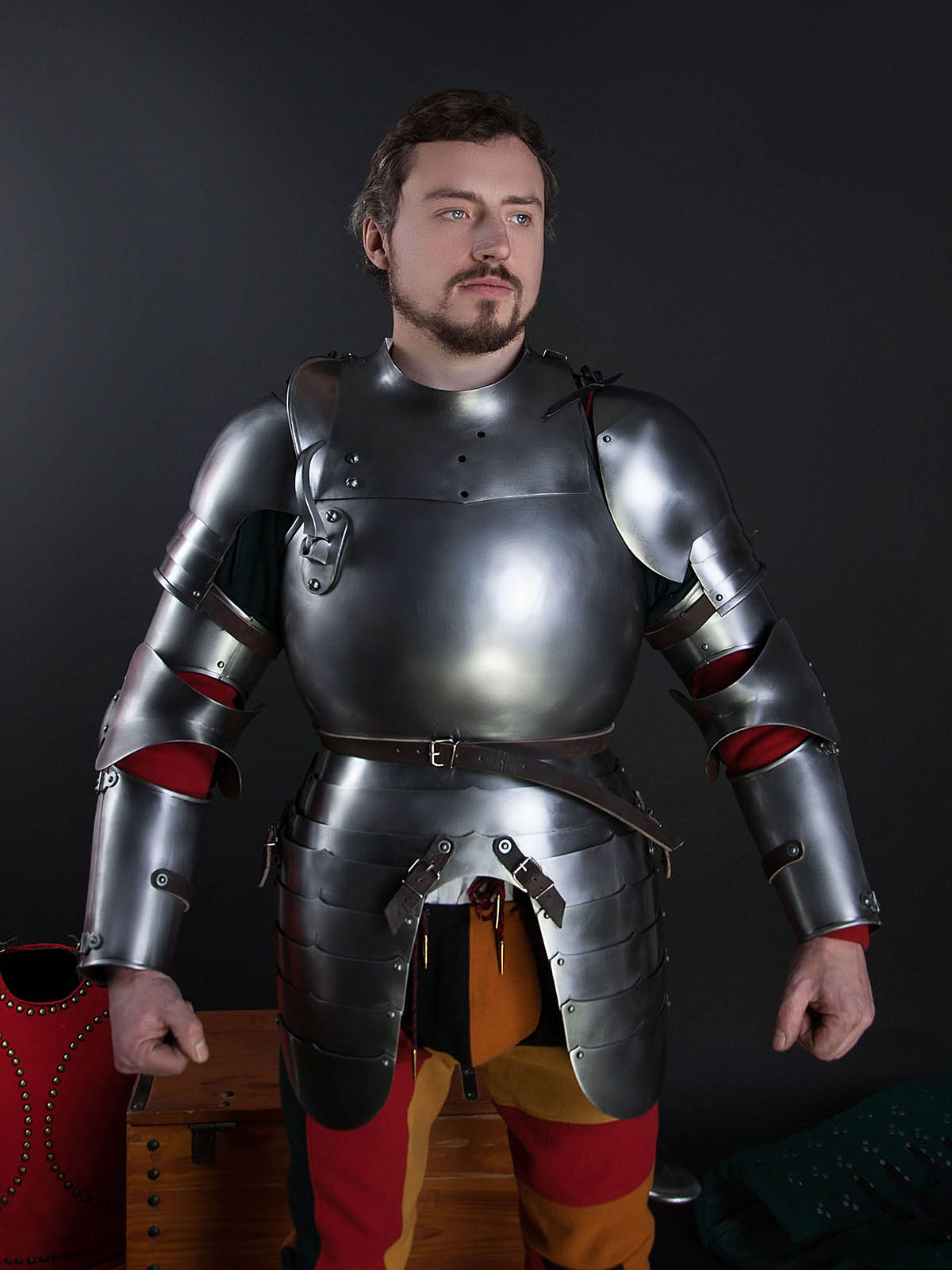 4. Fingered and mitten gauntlets. Hands might be on the most important part of your body. As a warrior holds weapon with hands and fingers, so if they injured, you simply will not be able to fight. Our craftsmen can make perfect medieval hand armor: fingered gauntlets, full-plate mittens or gloves. Each model protects hand at the highest level and let your fingers move free at the same time.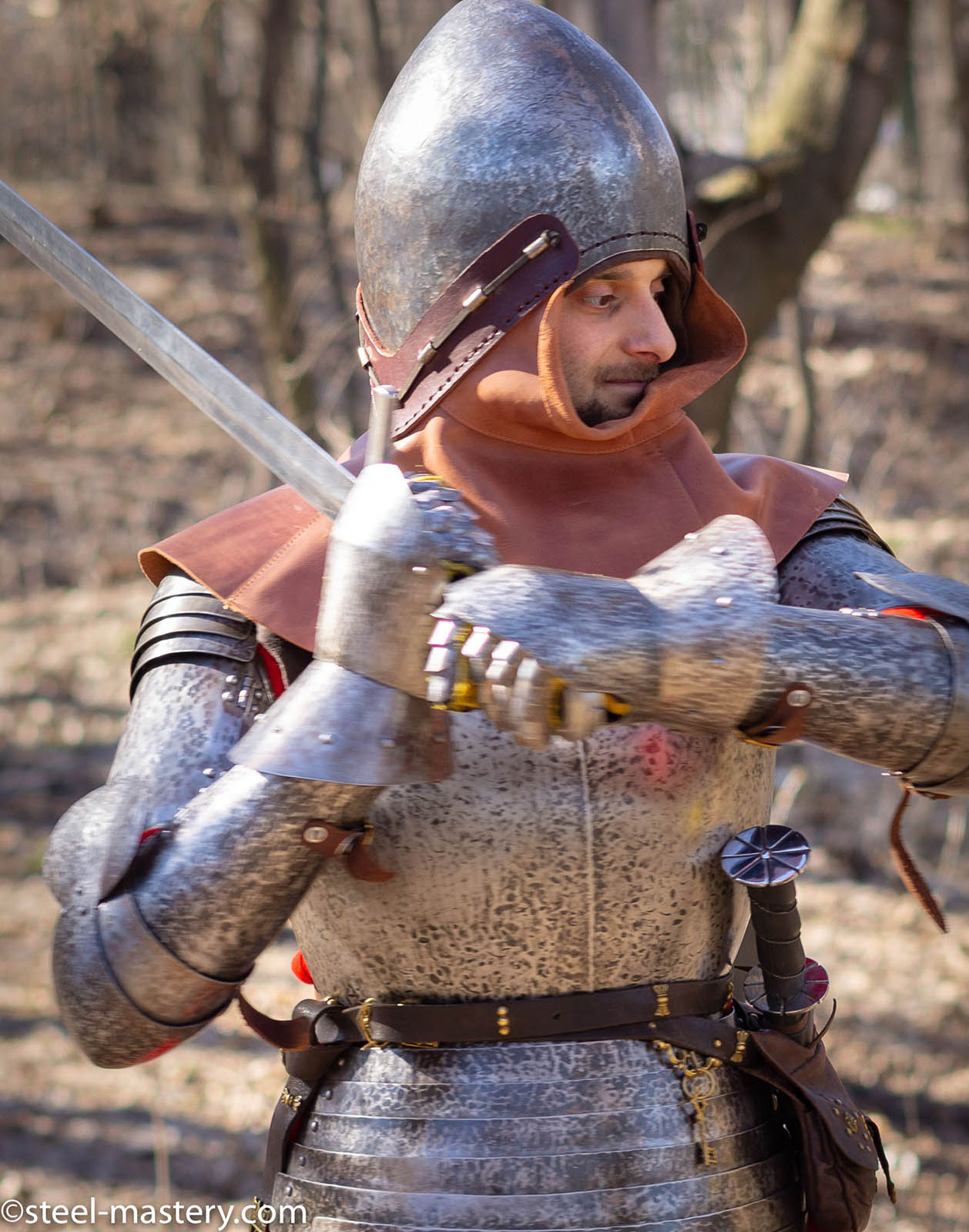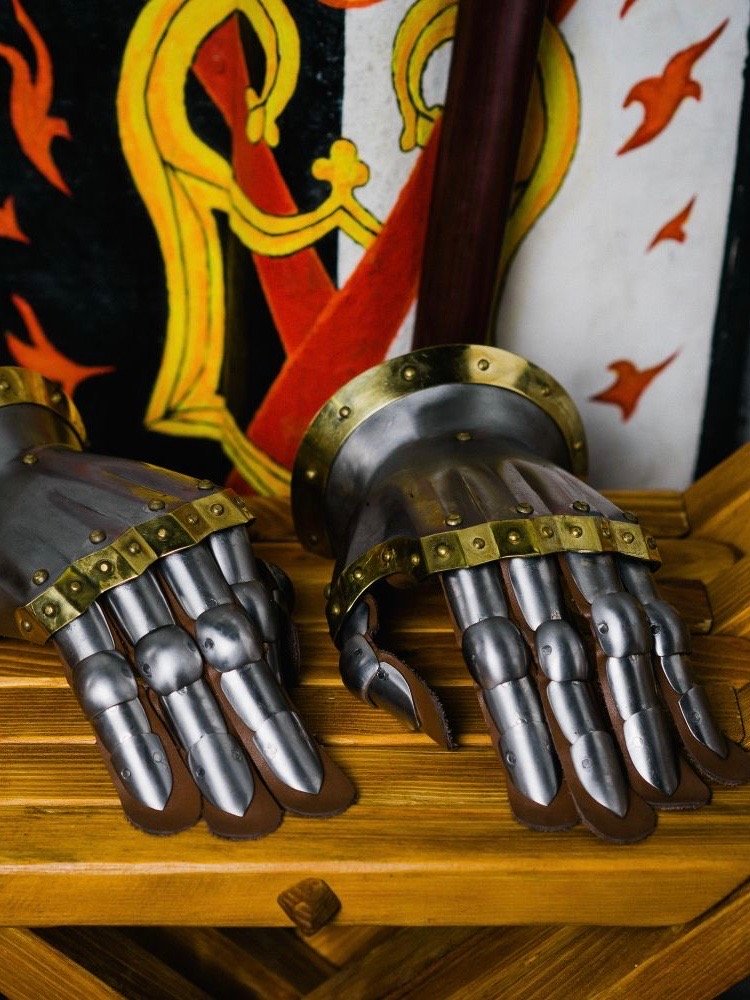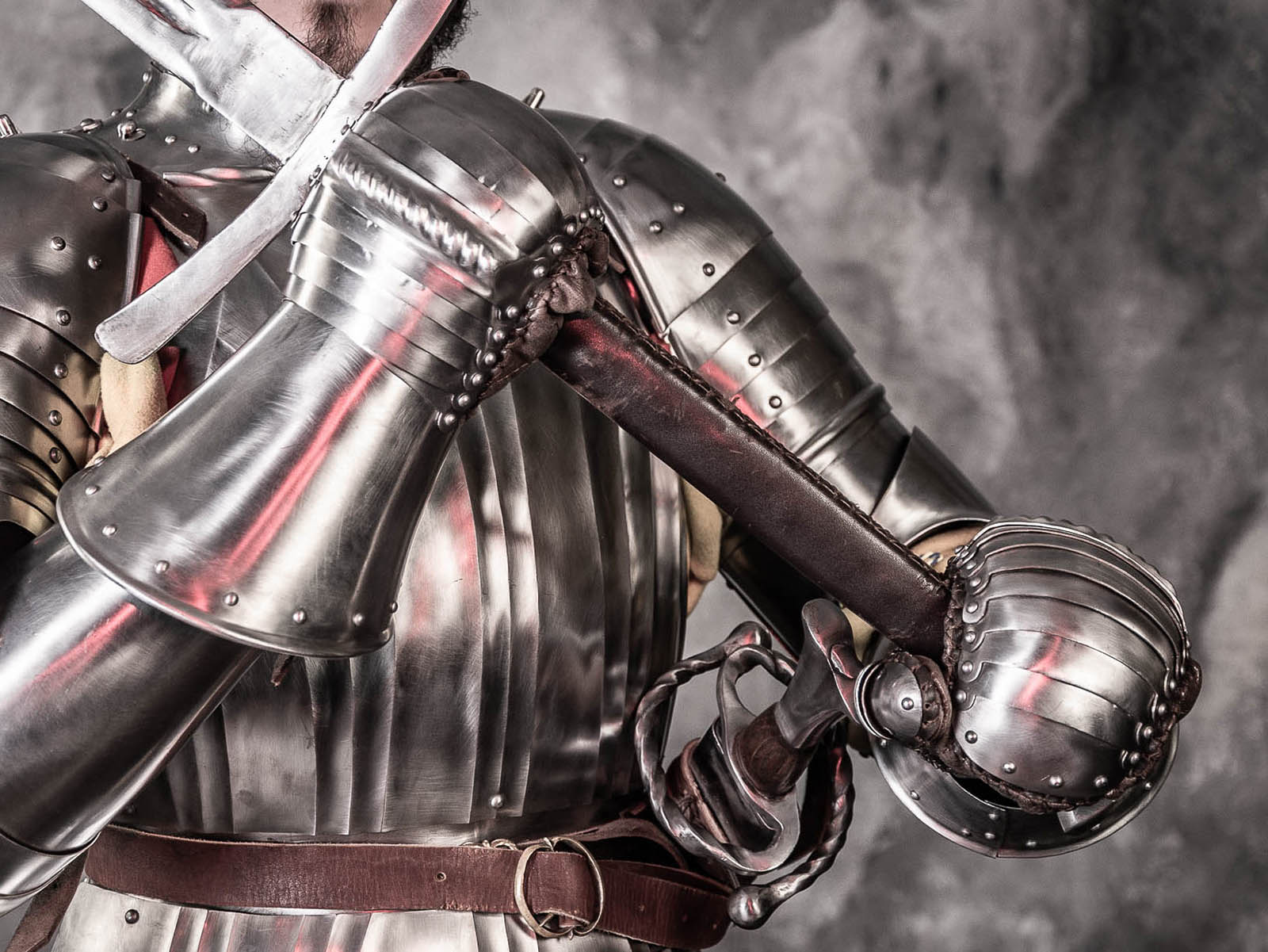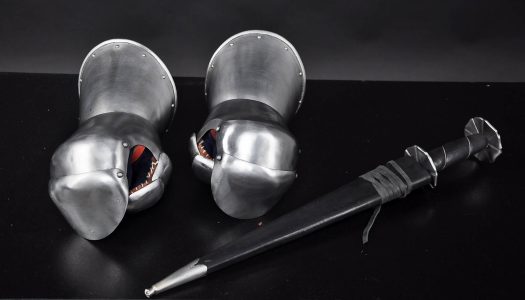 5. Cuisses, jambs, poleyns and sabatons. This section presents those parts of the armor, which protect legs, namely the hips, knees, calves and feet. You can purchase from us full protection of the legs, such as German or English gothic legs protection or armor for different parts: knee caps with different types of rondels for knee protection, greaves for defense of front part or complete calf, and of course sabatons – knight steel shoes. All the products can be customized and decorated by wish of the customer.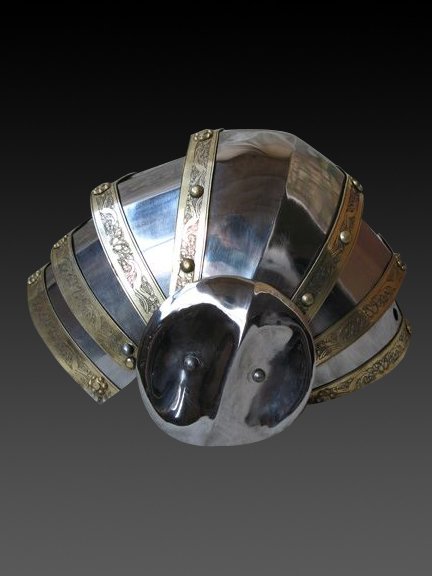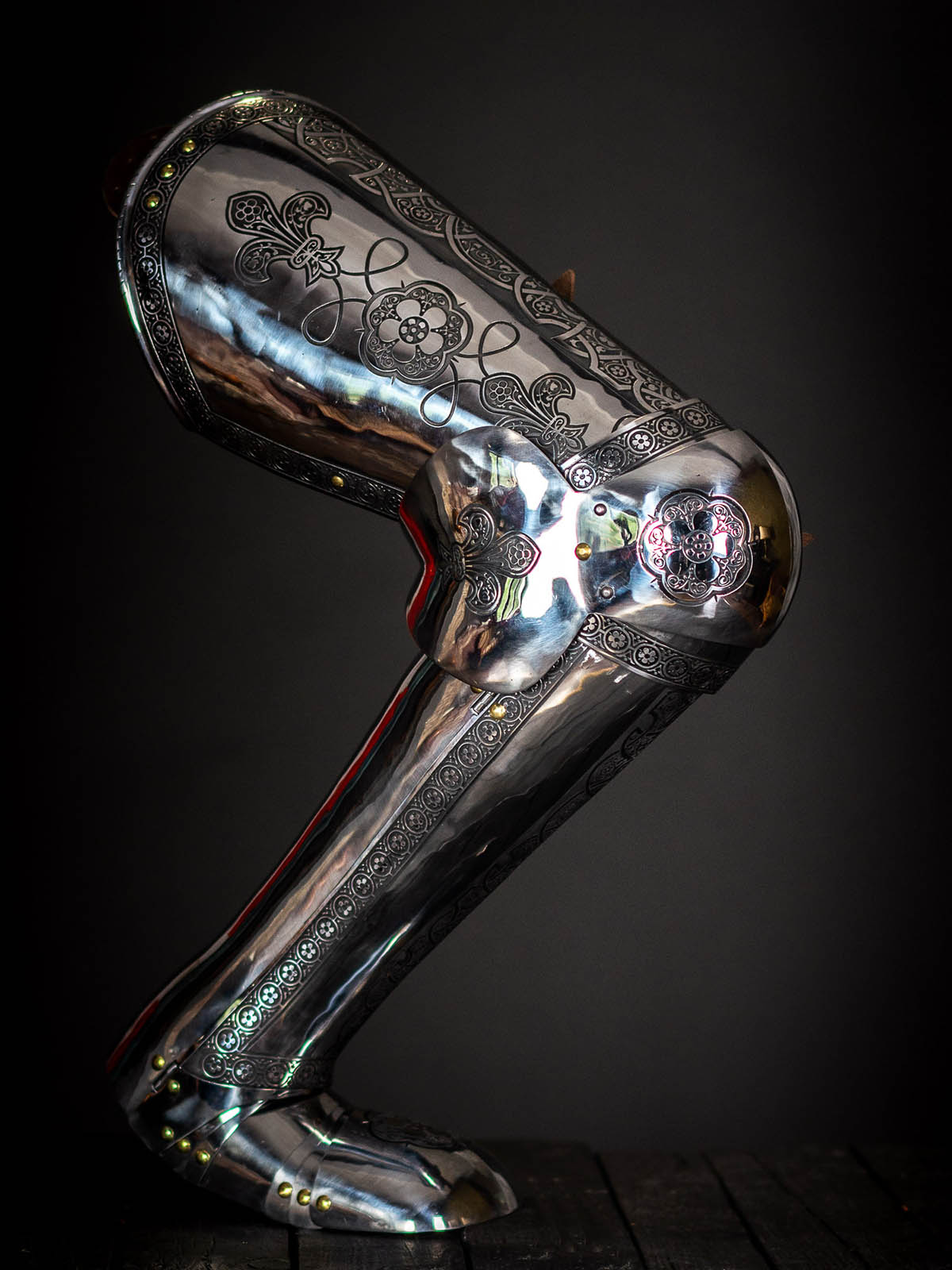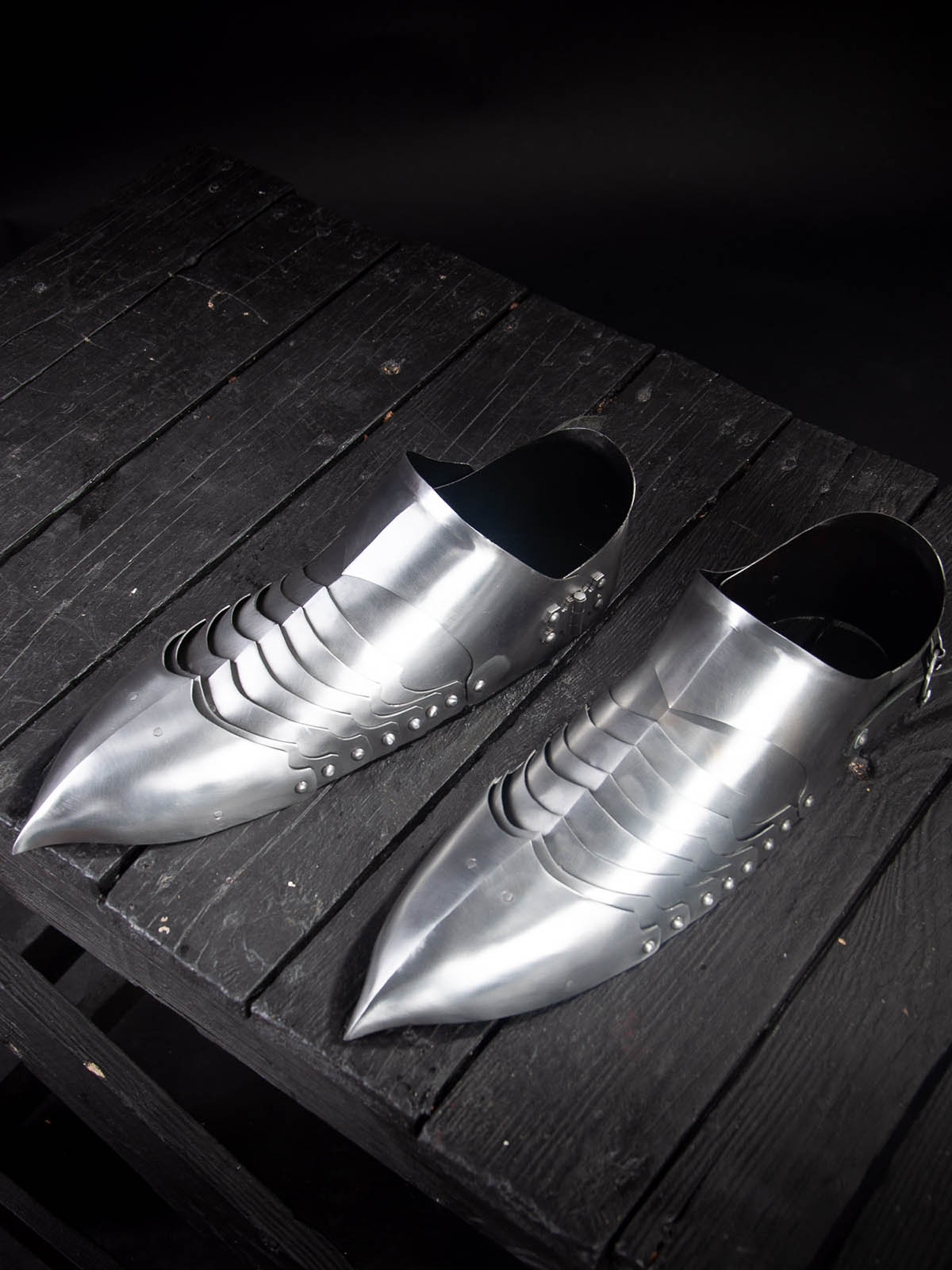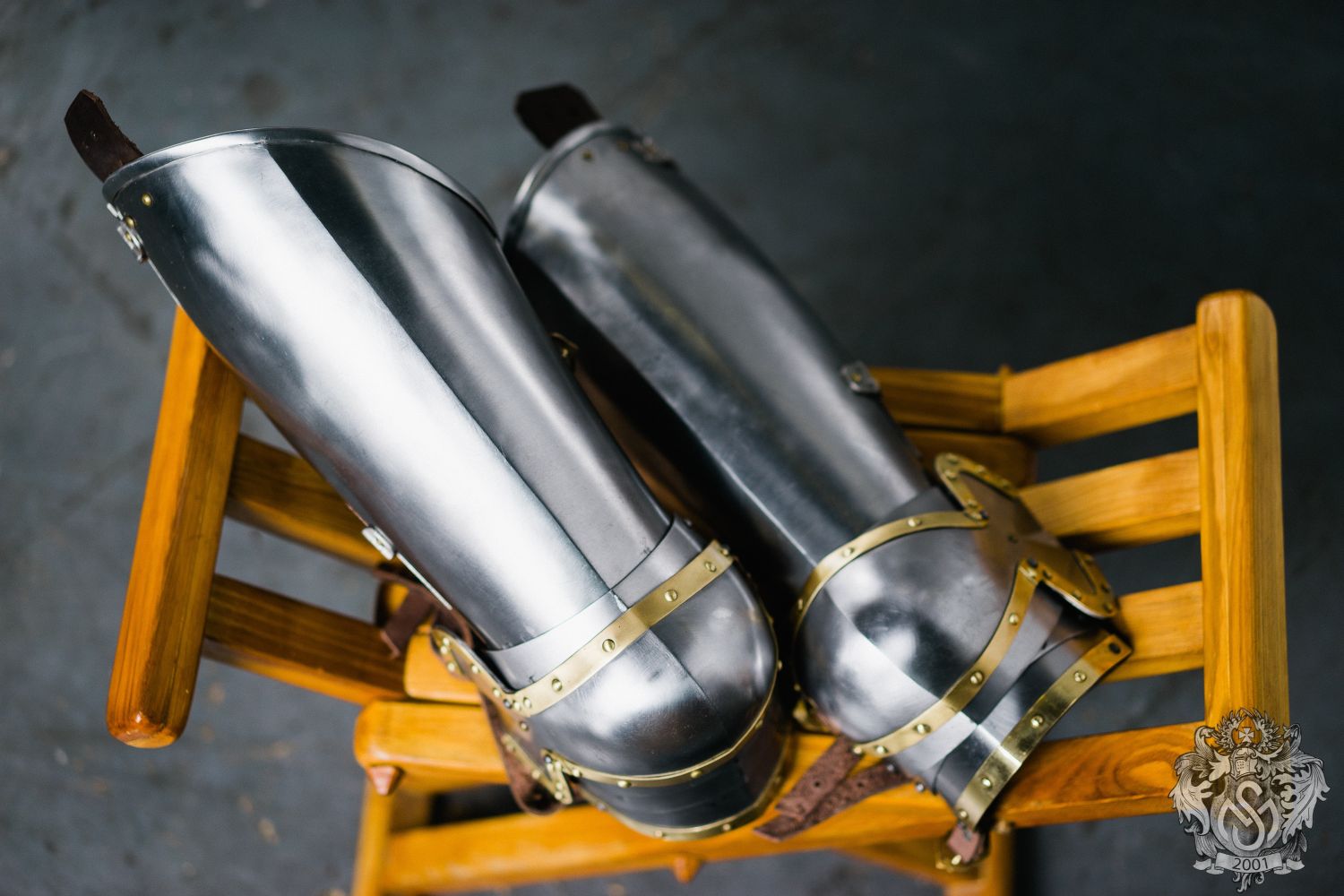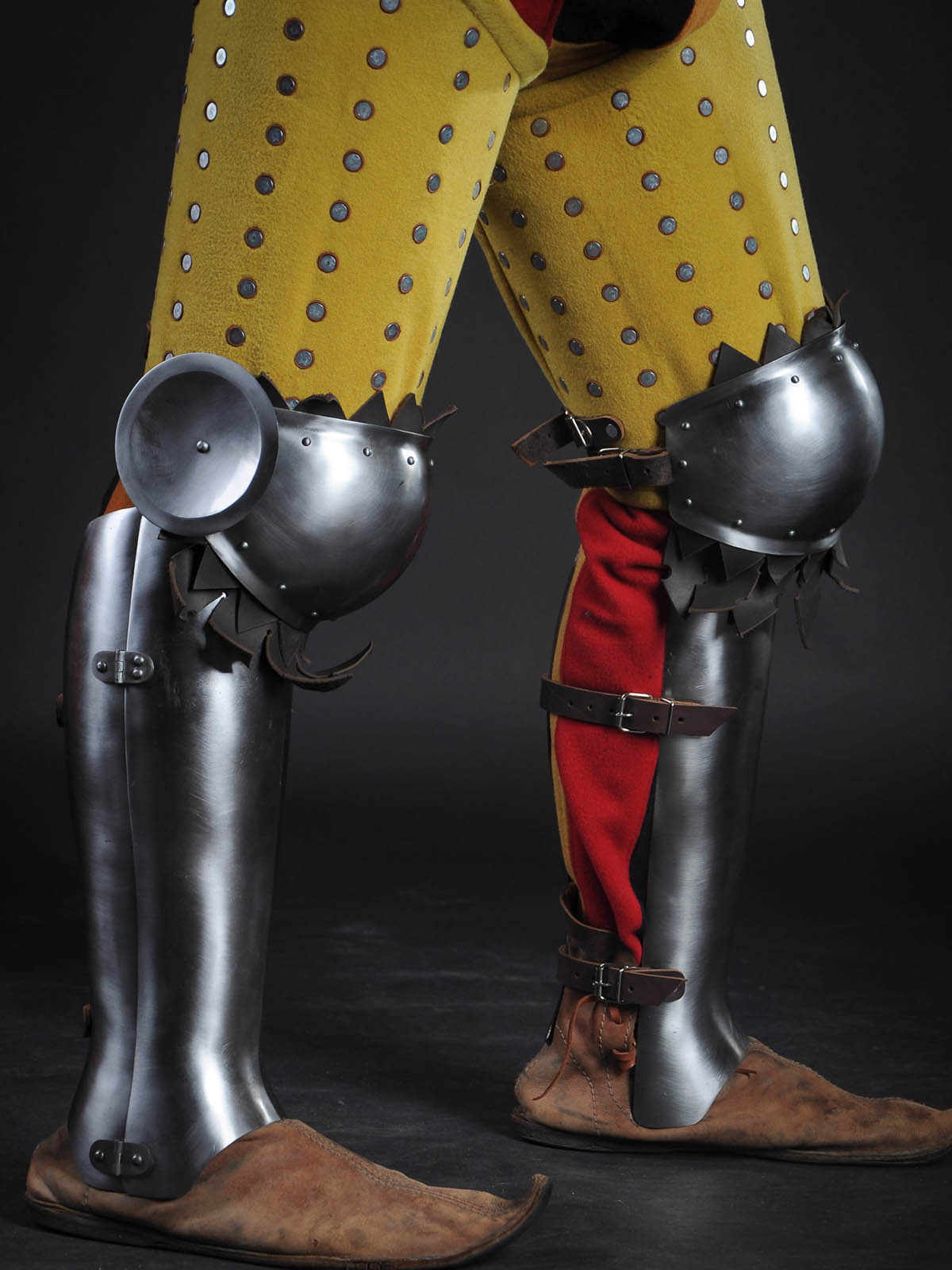 6. Plate shoulders. Metal spaulders for protection of shoulders and partly neck. They are entirely made of metal, very rarely include leather. We produce shoulders and pauldrons in Italian, German, English styles. All products are hand-crafted, taking into account the needs and size of every customer. This Middle Ages armor is usually tied up to padded gambeson or plate cuirass.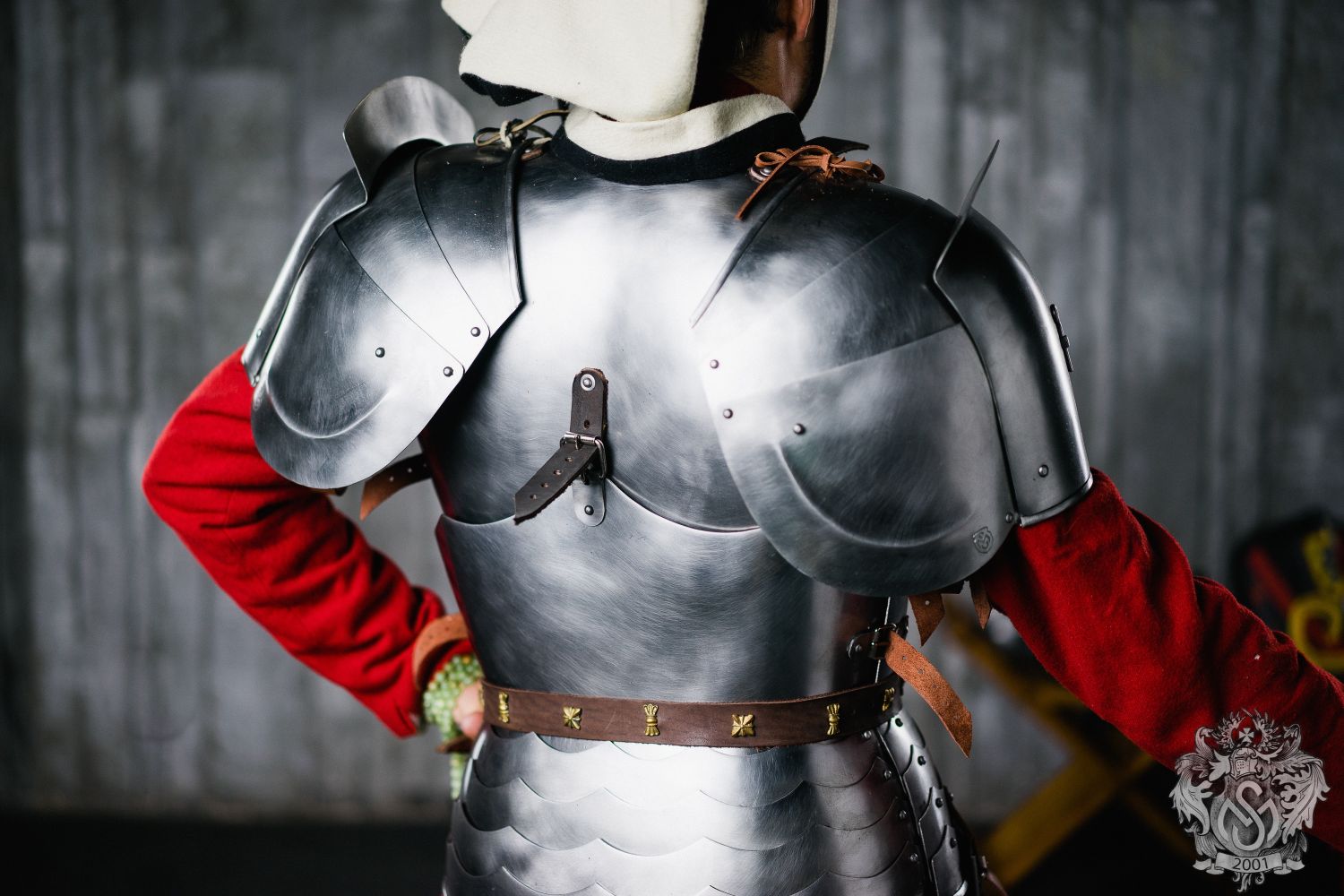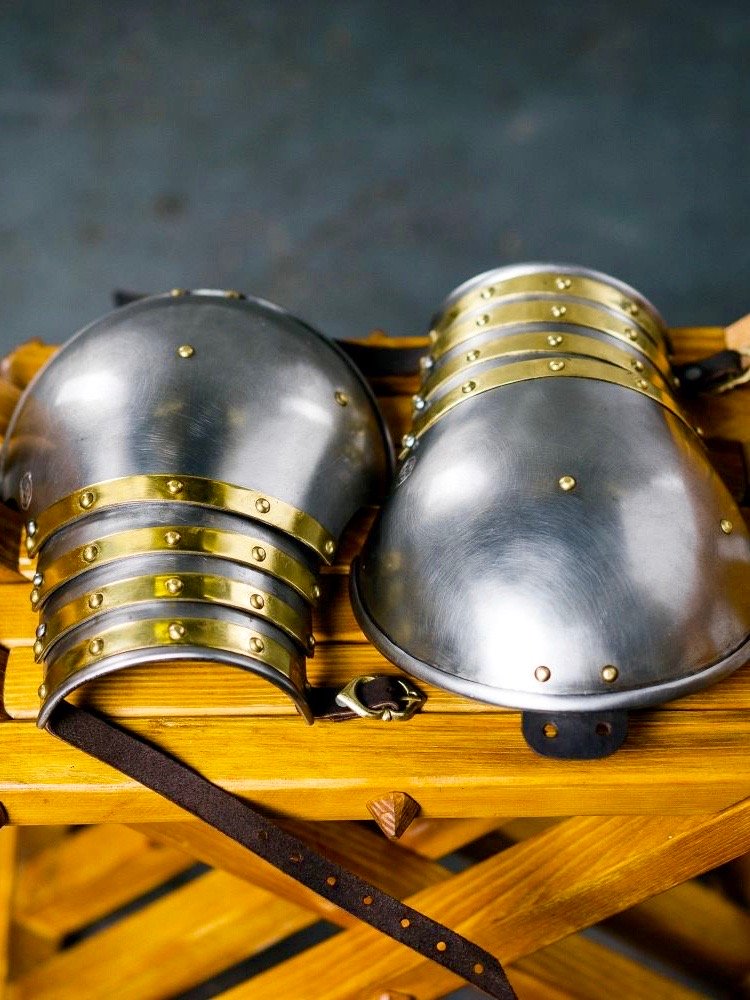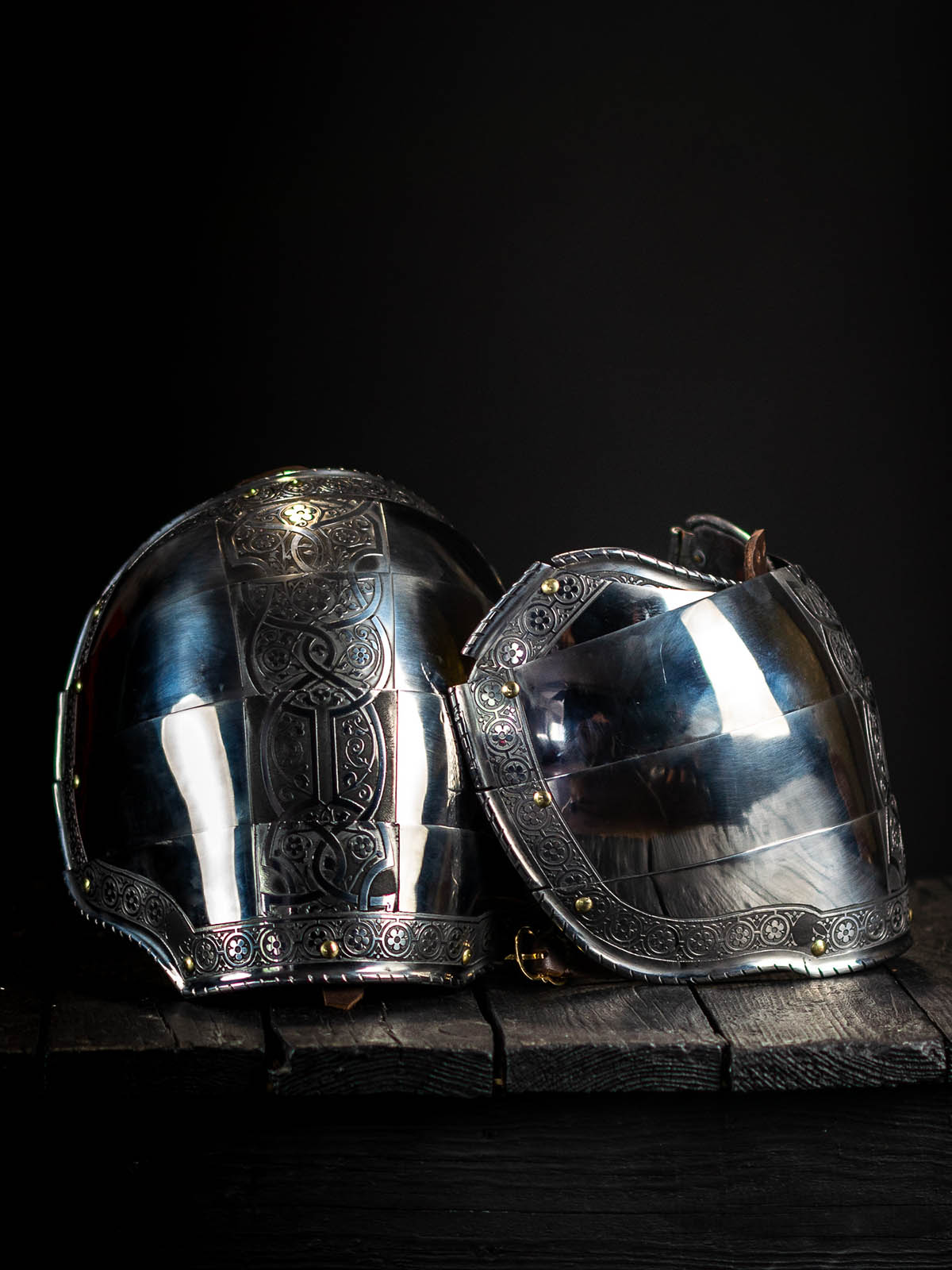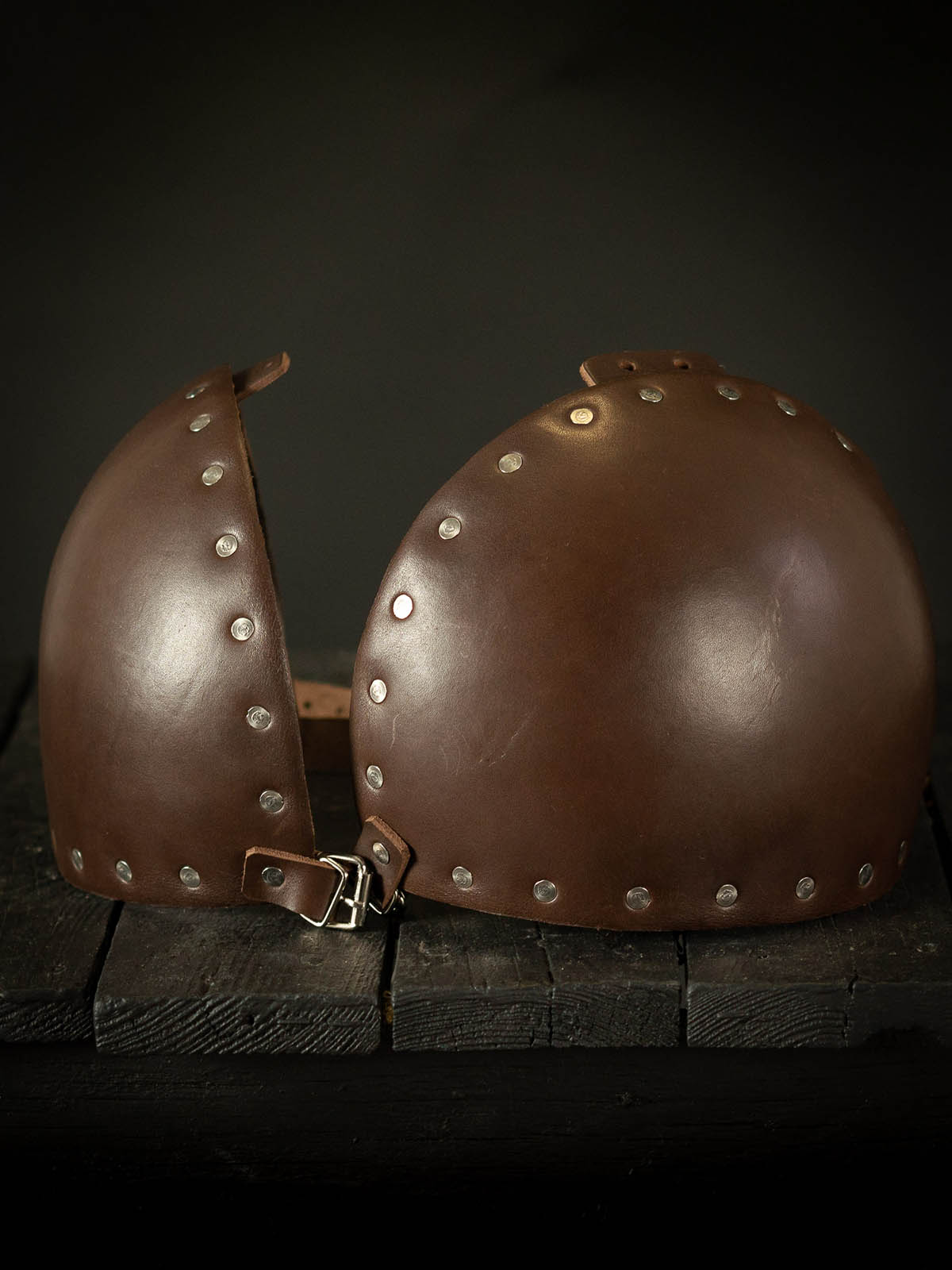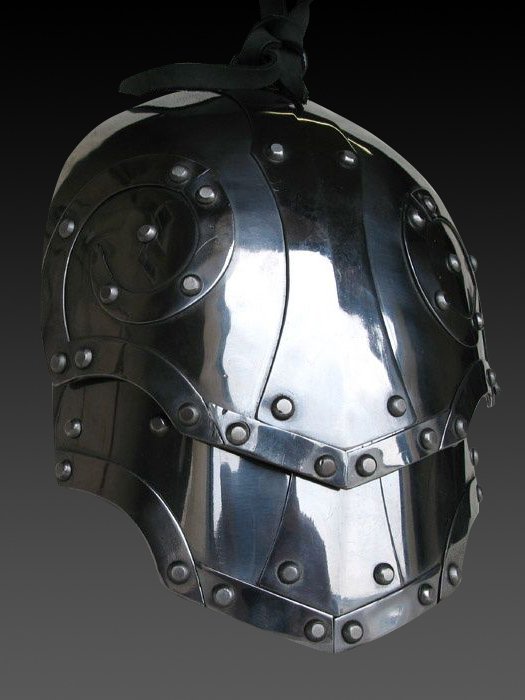 7. Bracers, couters and full arms. In this category, we present such an important part of armor as arms protection. We suggest that you choose both full protection of arms from wrist to shoulder, and individual parts. In addition to full arms, here you will find the protection of the forearm, such as "The boat" – popular Eastern arm armour or stylization – sport metal arm protection for SCA. It is also possible to purchase elbow caps as a separate piece, with or without rondels of different shapes.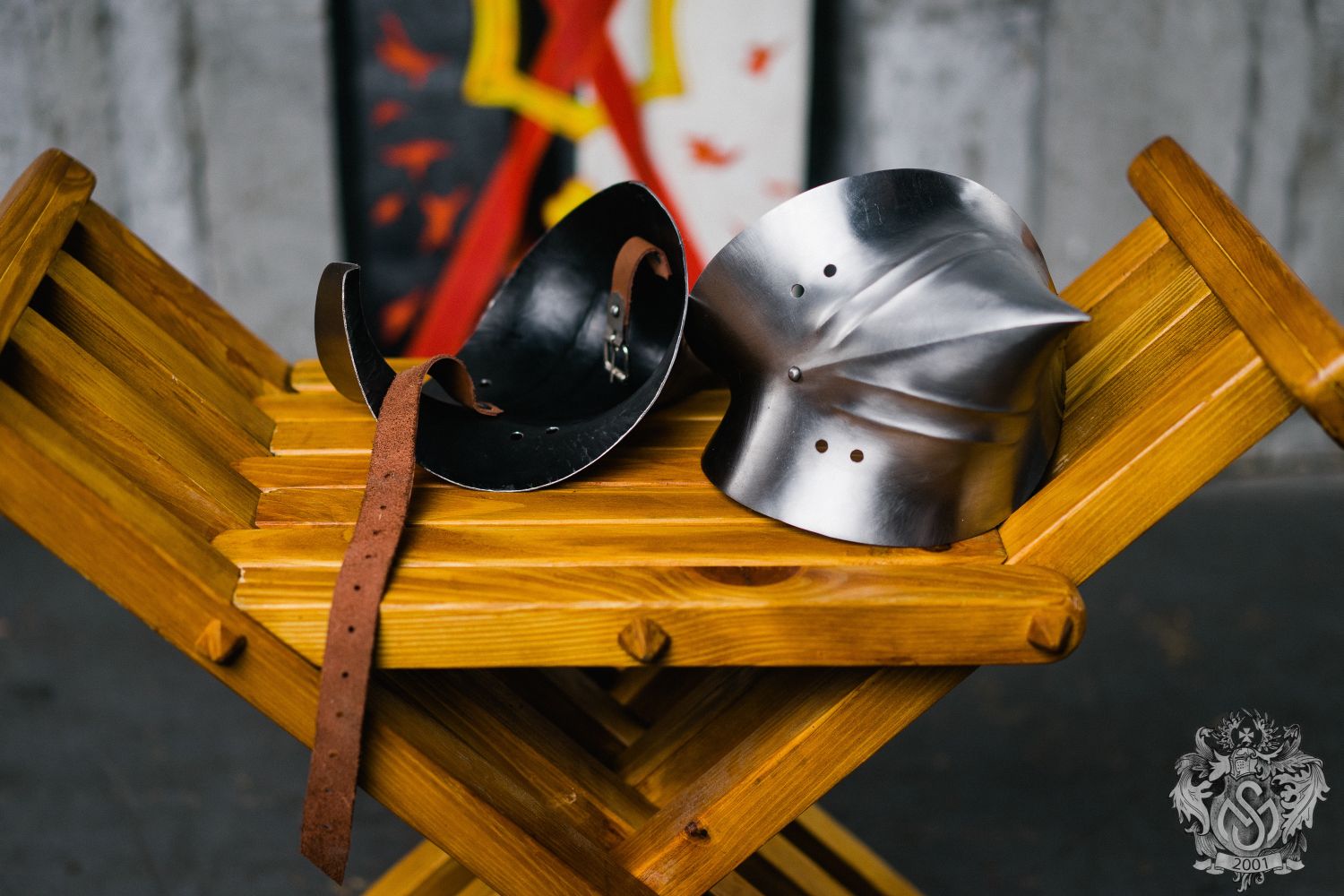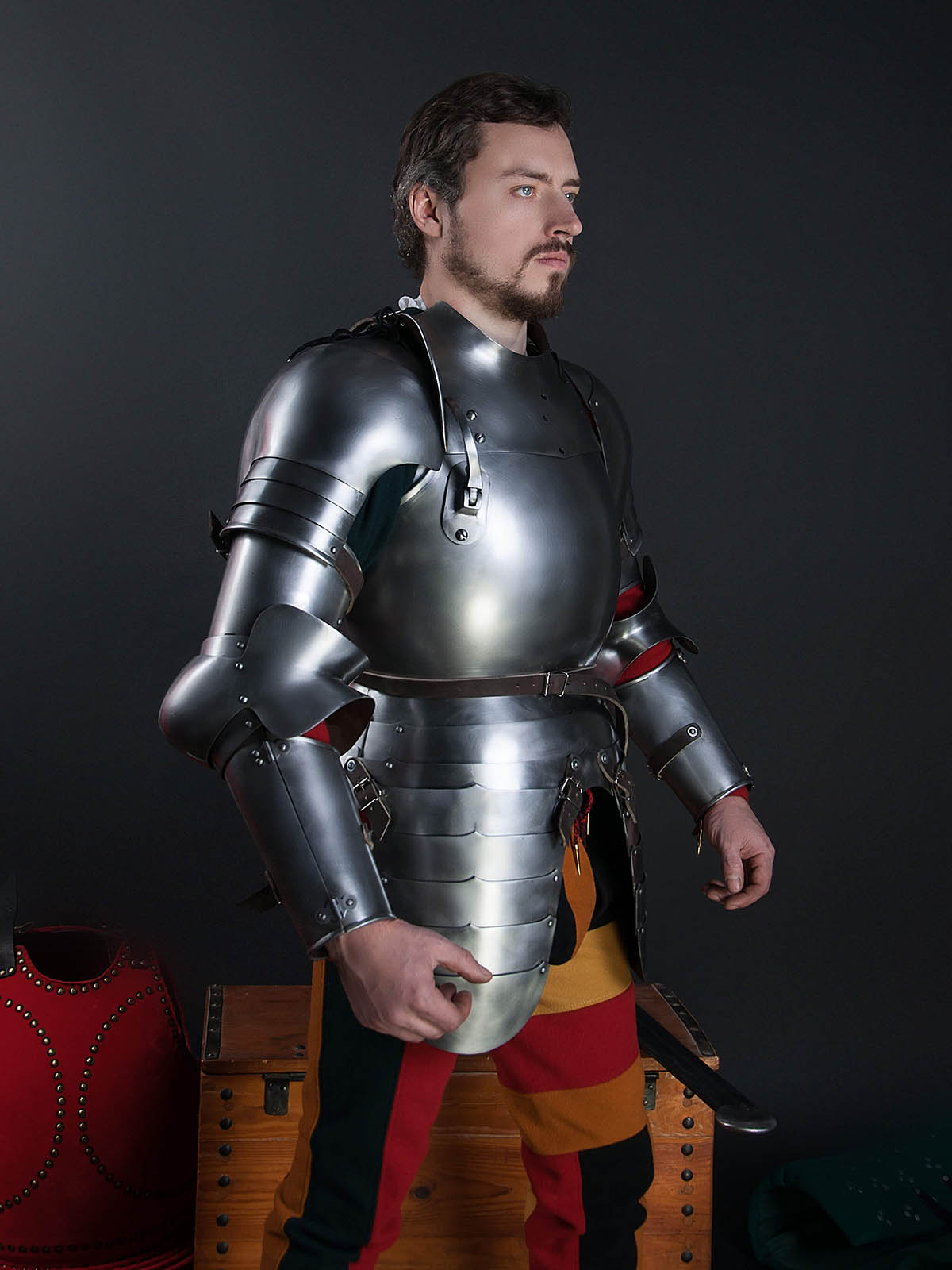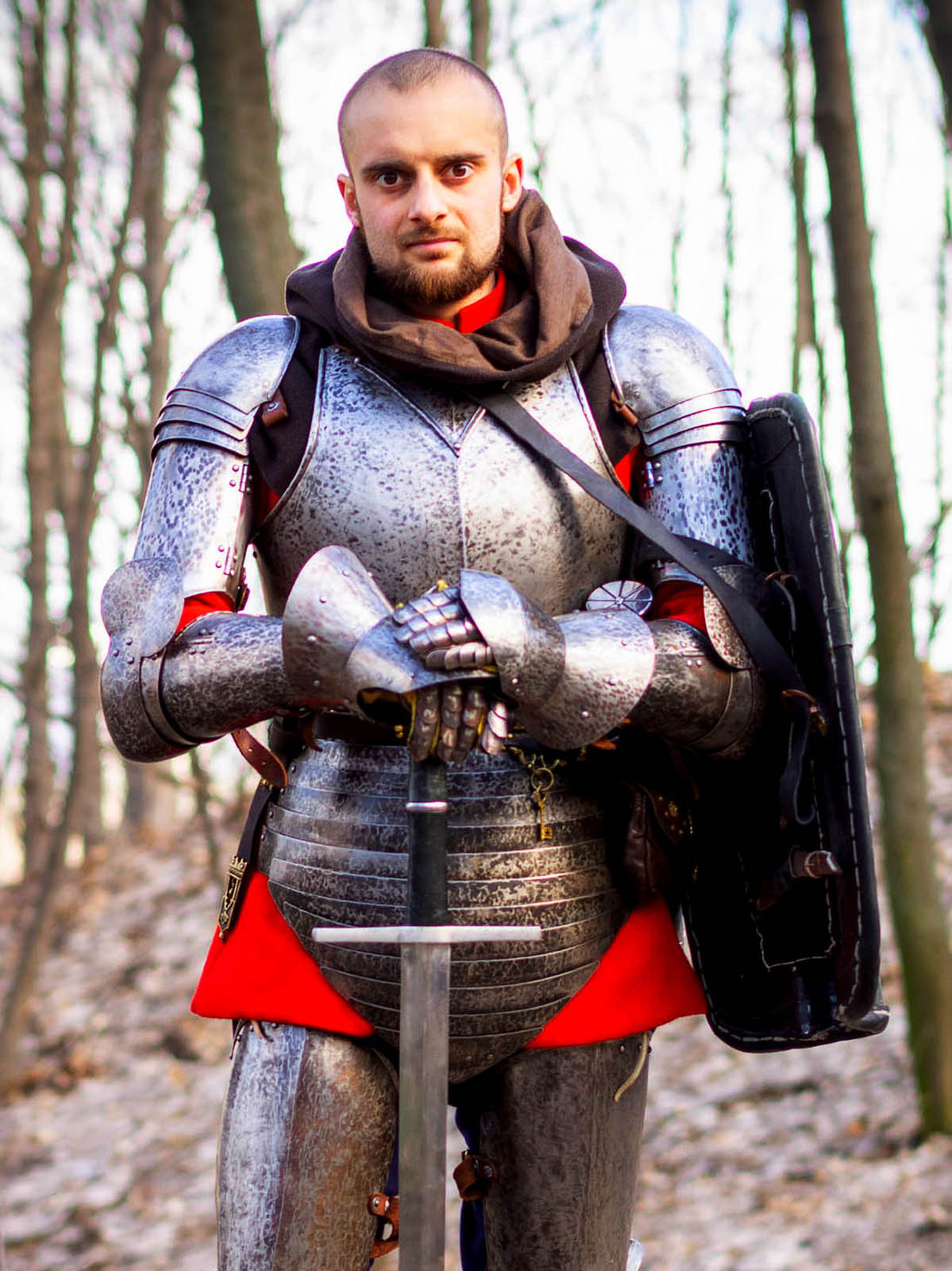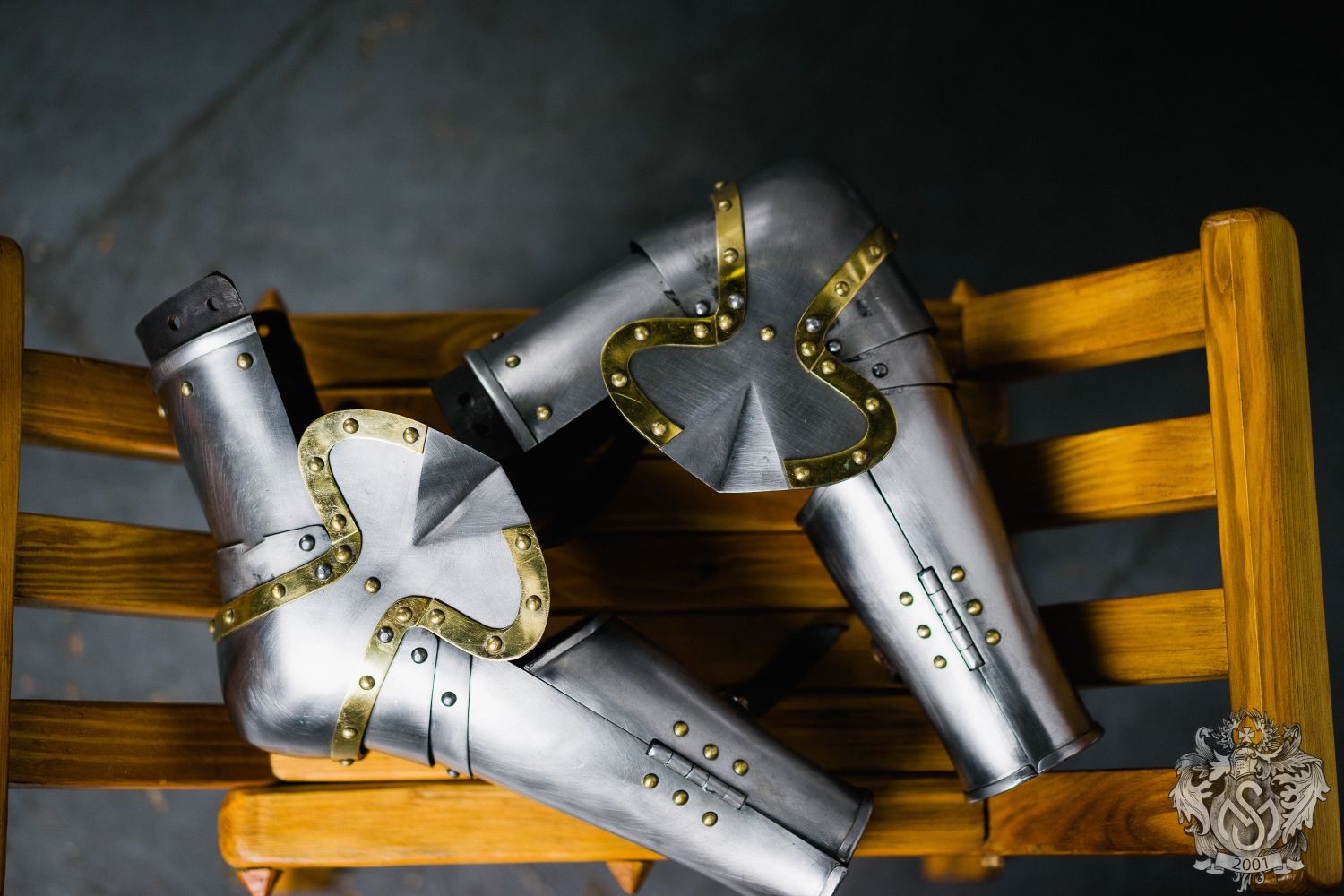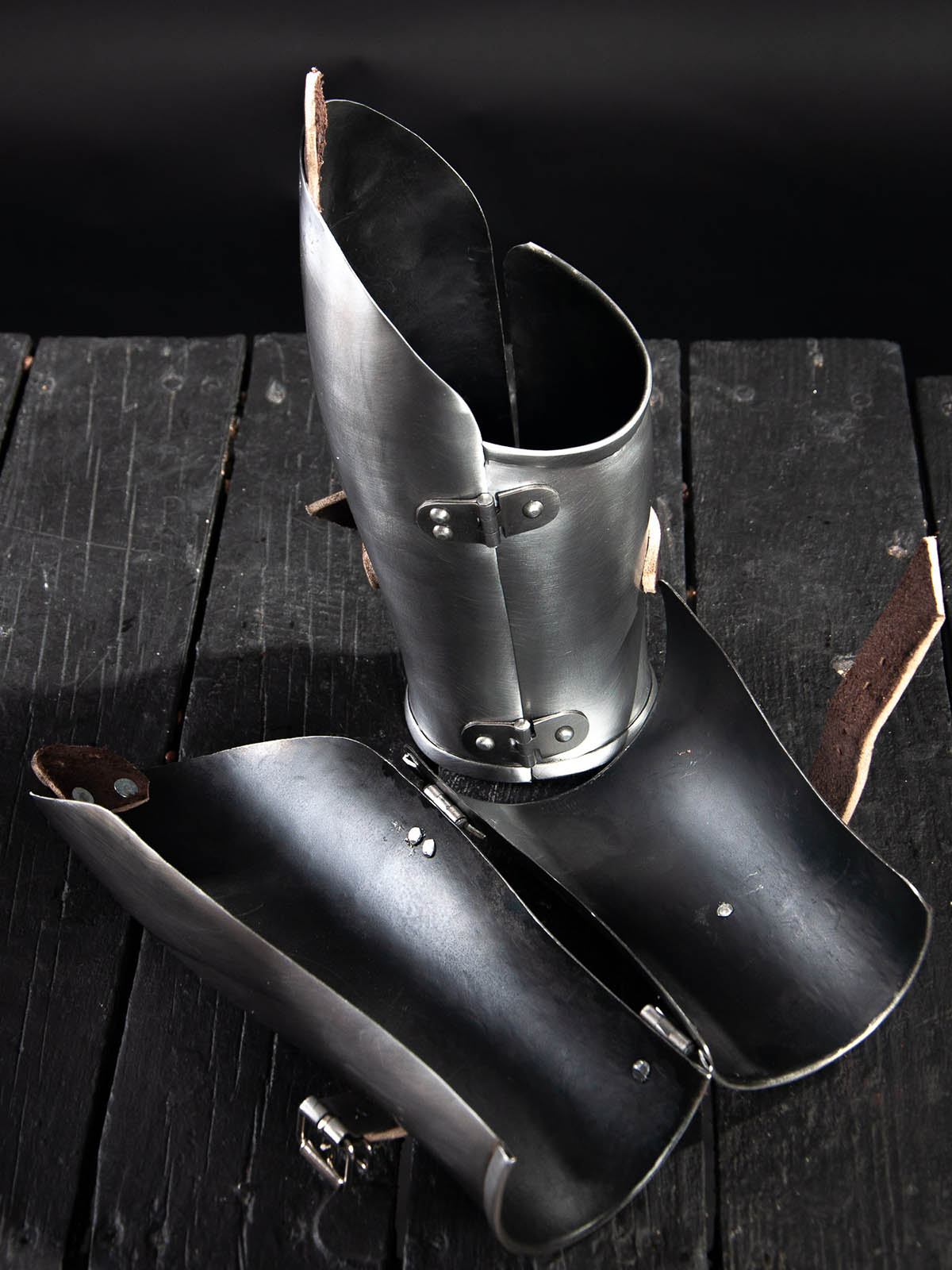 8. Shields. Shields are the most popular defense equipment known from ancient times. It could have different shapes (round, triangle, square), sizes (small fist shields bucklers with diameter 20-40 cm or large shields of height at least 110 cm), materials (wood, plywood, steel, bronze). In this category, you may see custom-made shield (as ready so for self-assembling). Every model may be customized and decorated with painting or etched brass plates.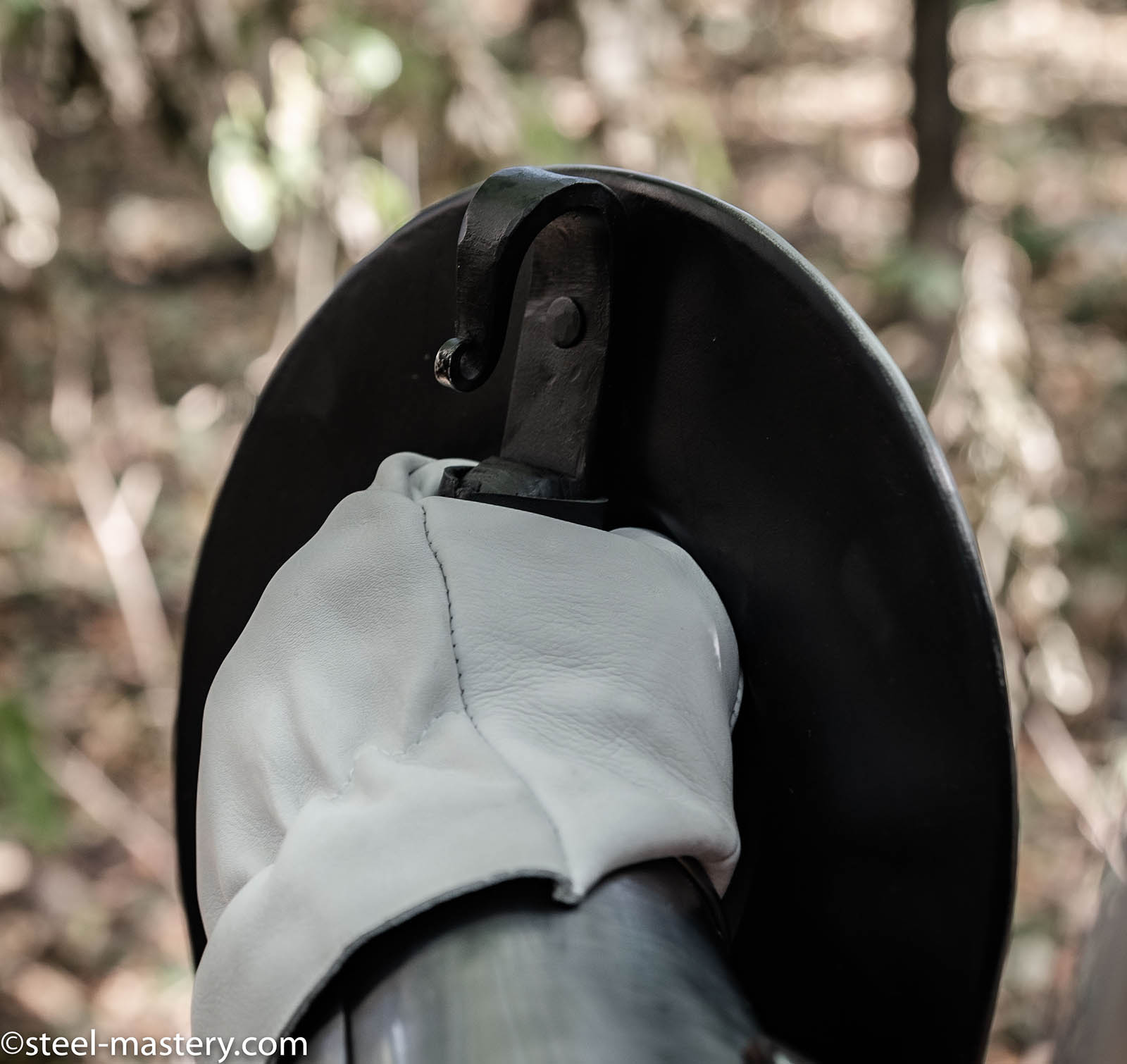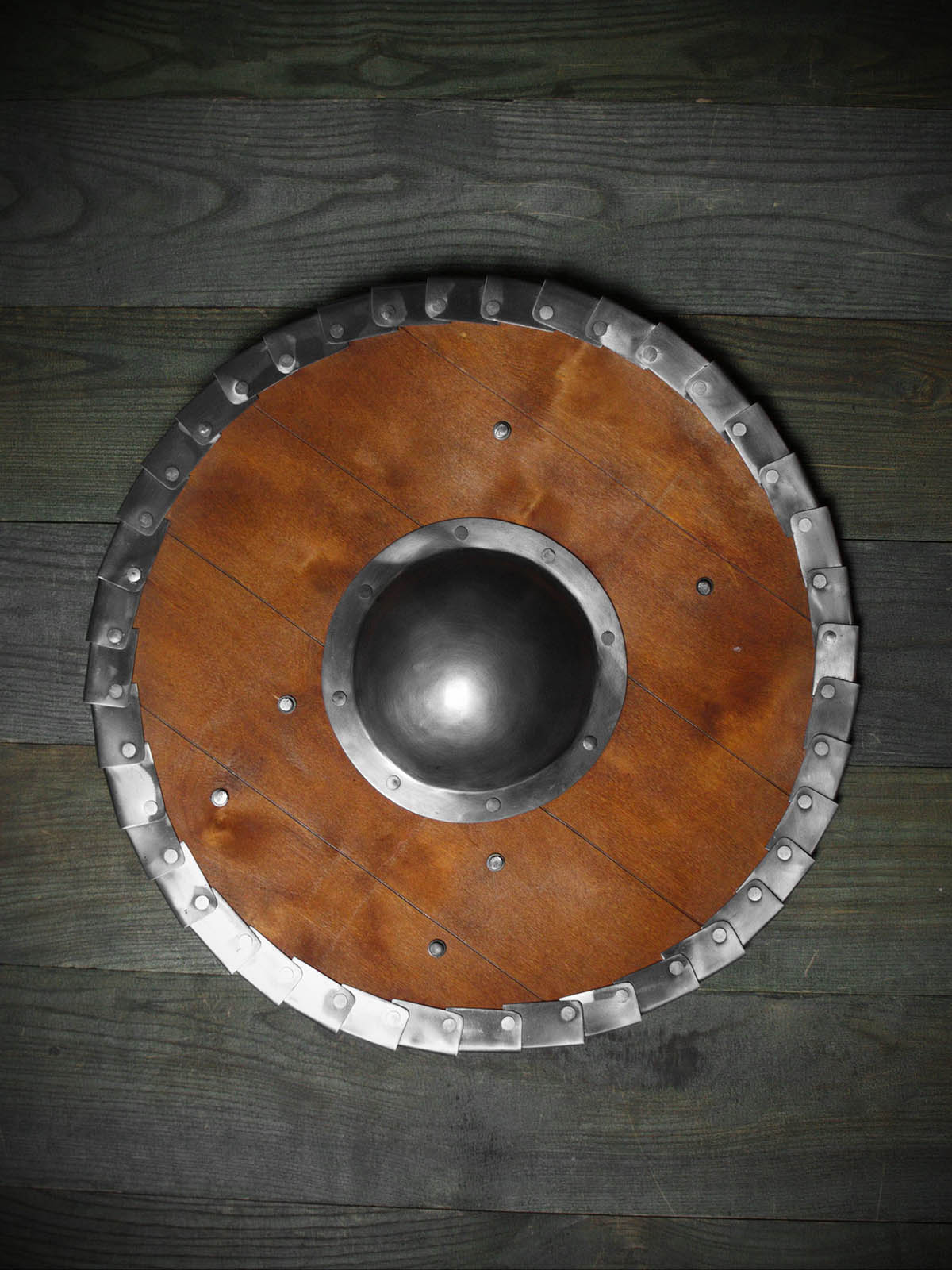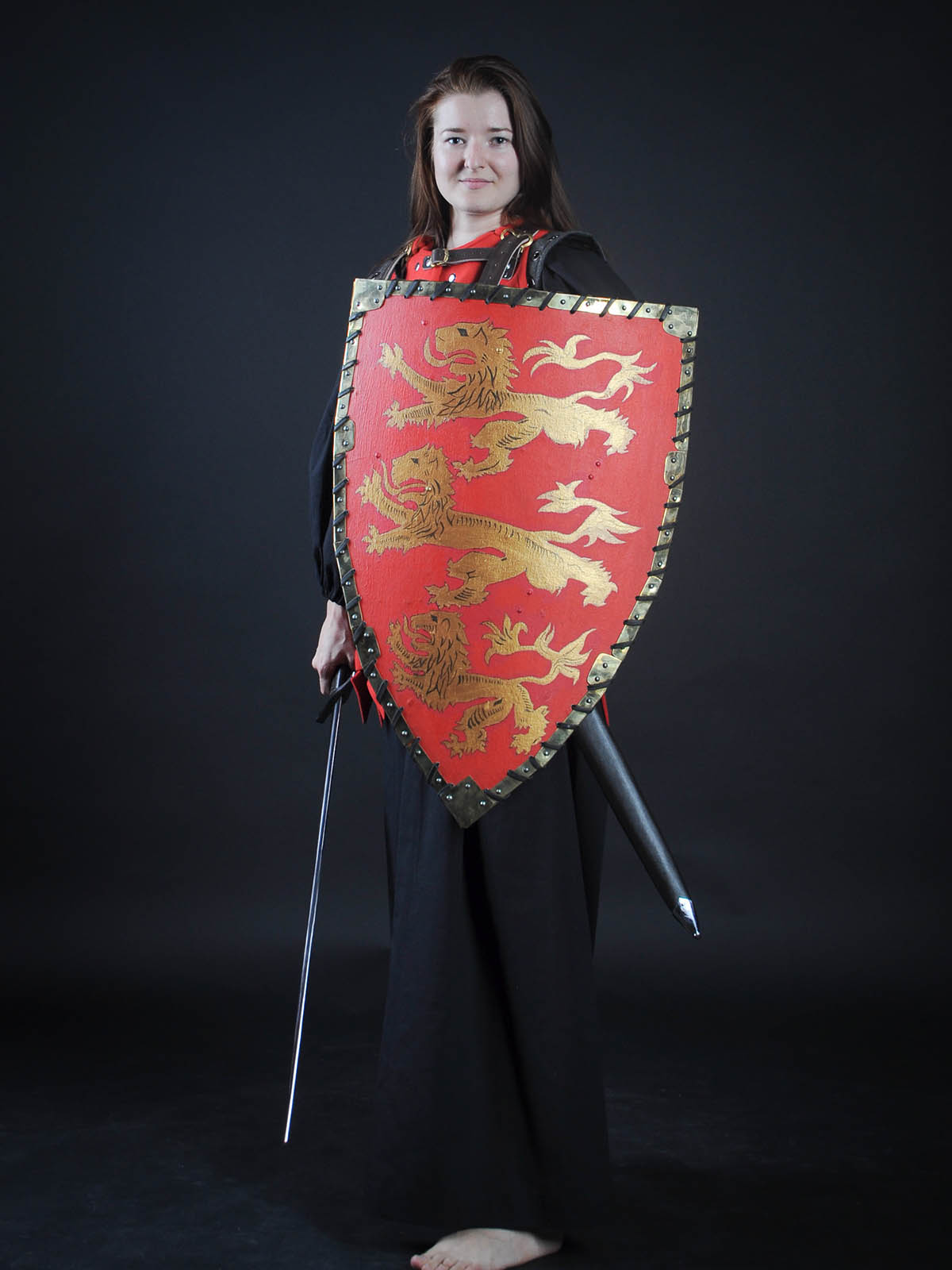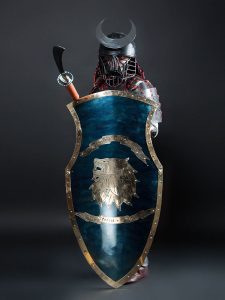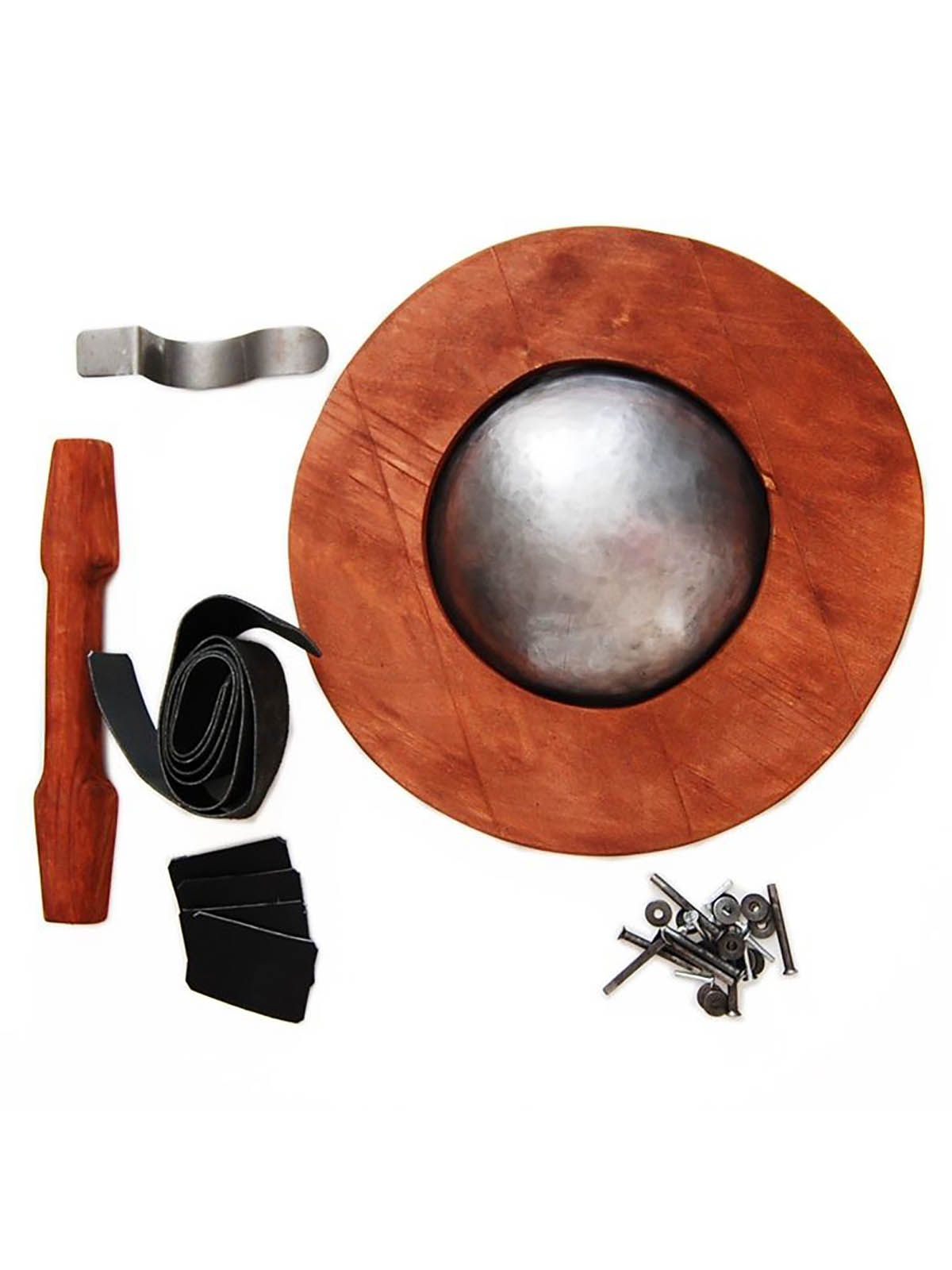 9. Plate armour maintenance. If it's necessary to repair any part of the armor, we offer you to buy set of 50 steel or brass rivets of different diameter. These rivets are perfect as for plate armor, so for brigandines' maintenance.
10. Fantasy armour. If you are fascinated with LARP or cosplays, or just love fantasy movies or games and would like to create a look of your favorite character, this category is just for you! Unique handcrafted body defense of leather and steel is made of the high quality materials.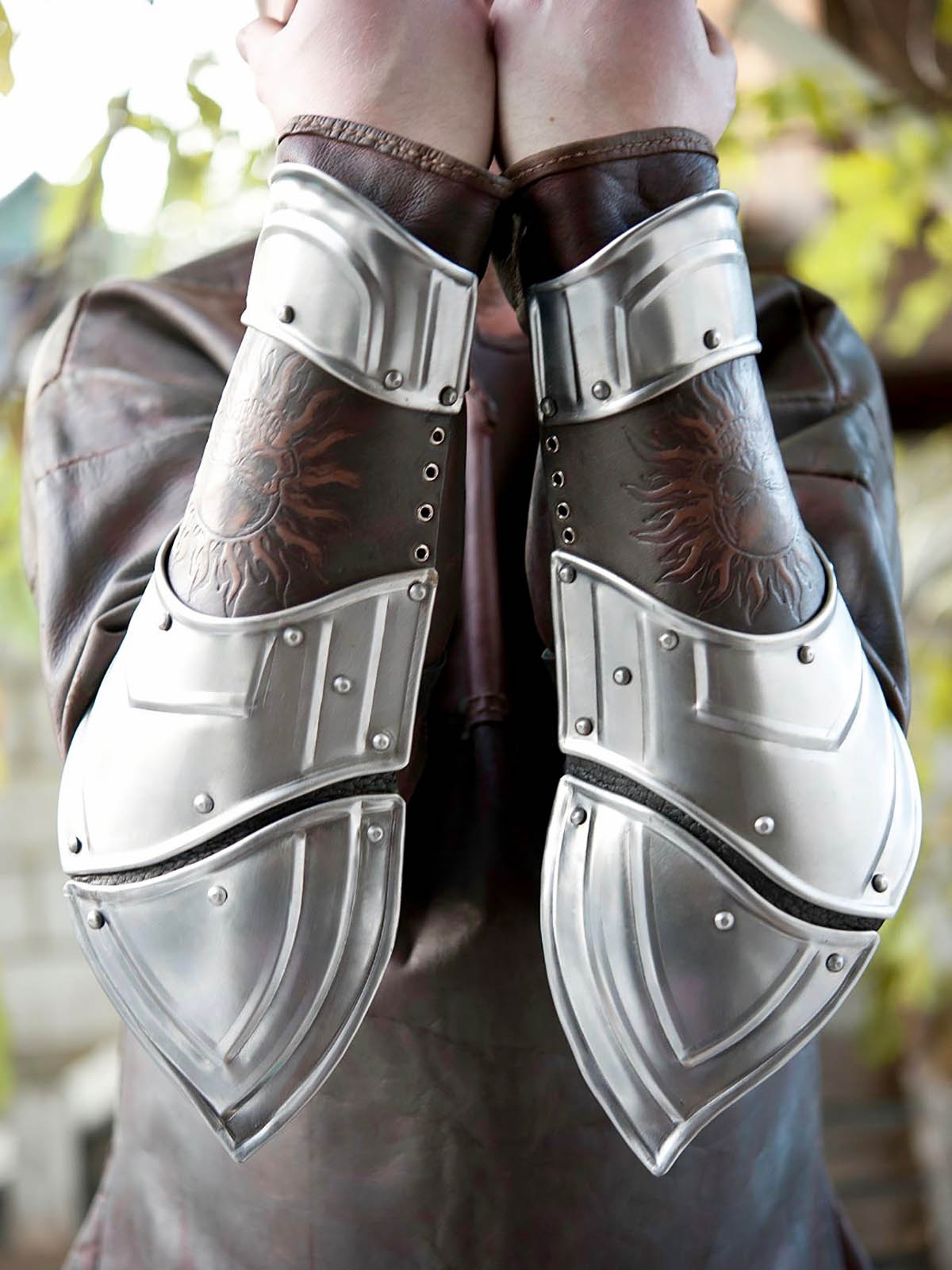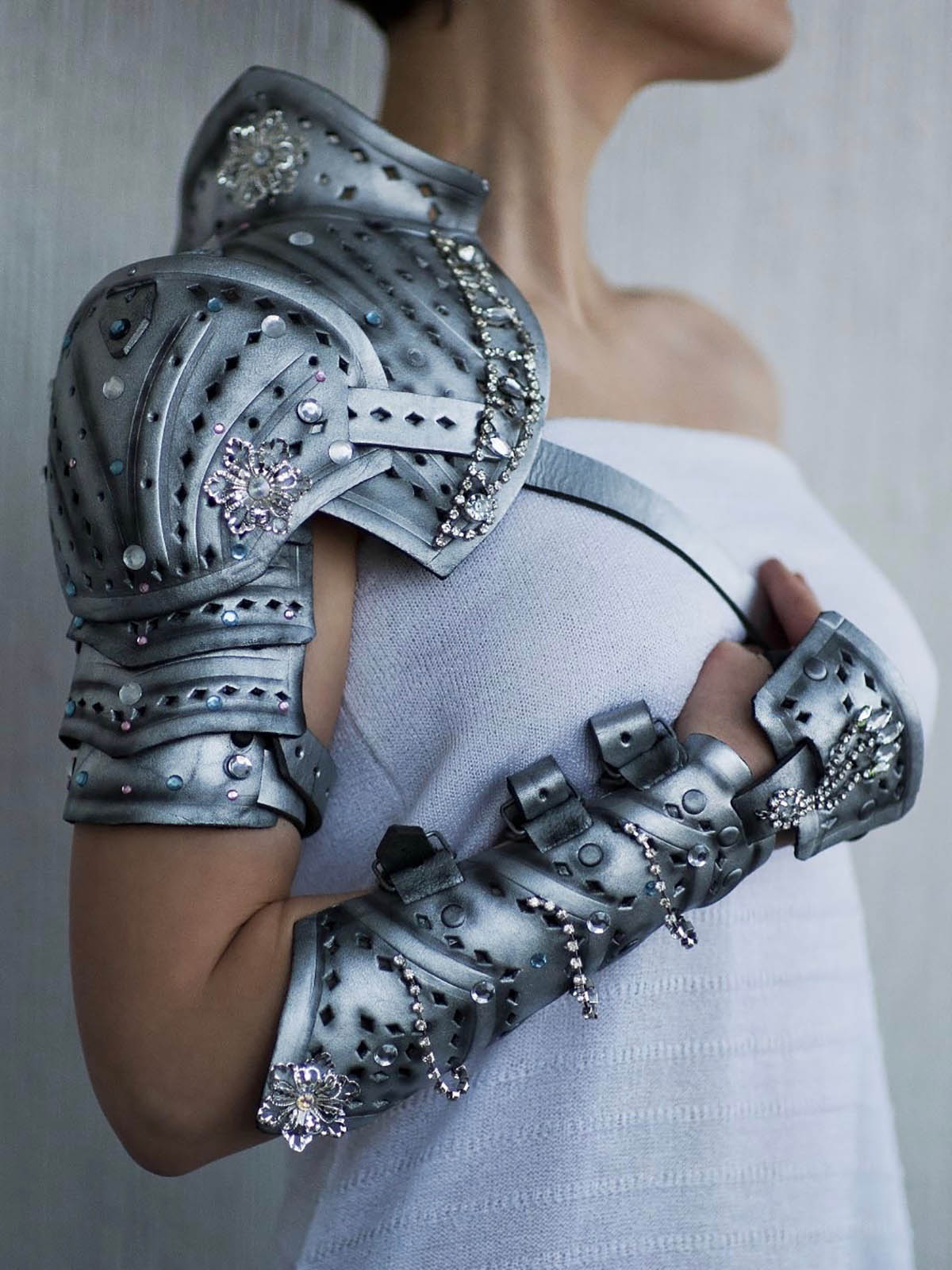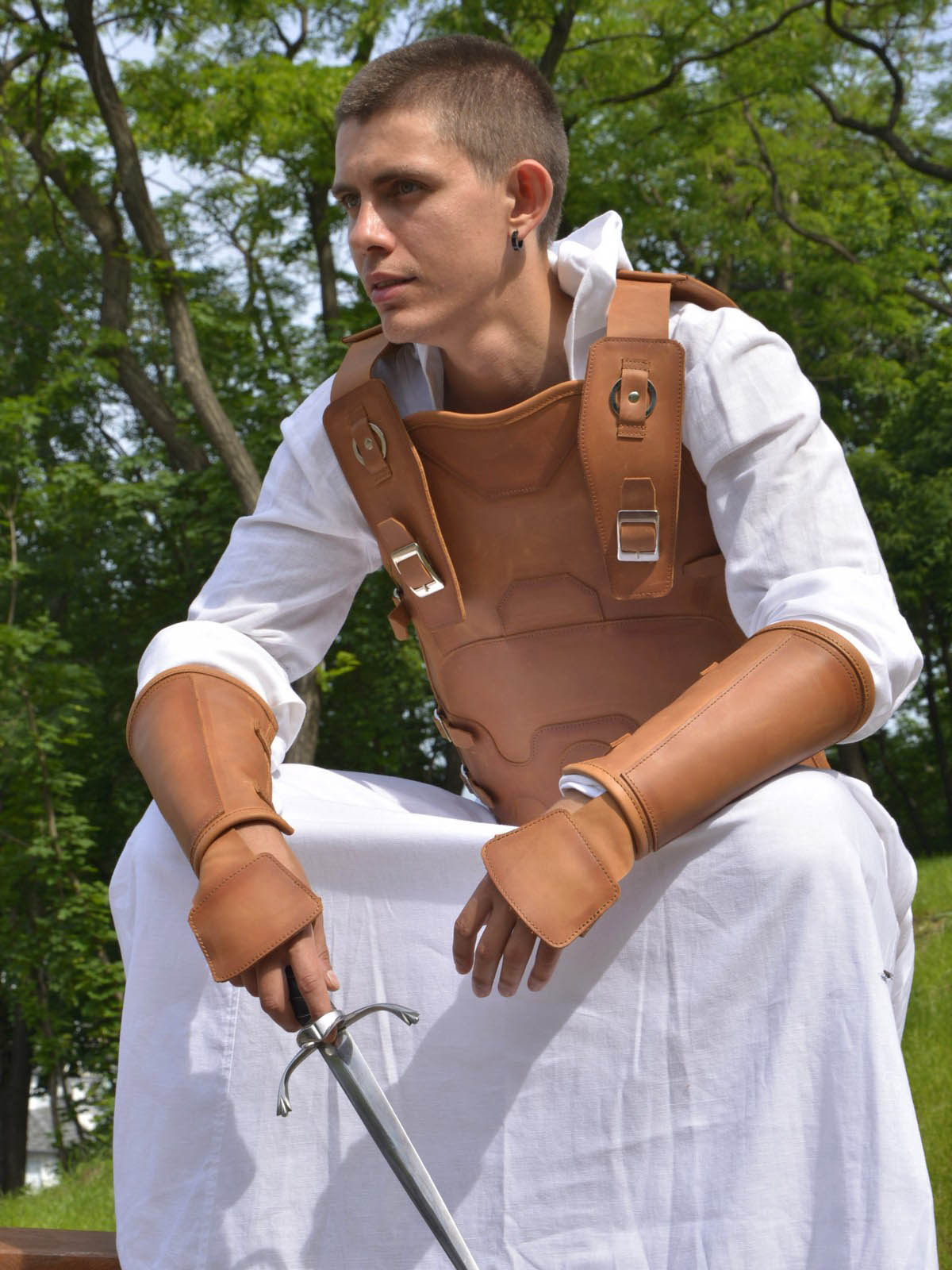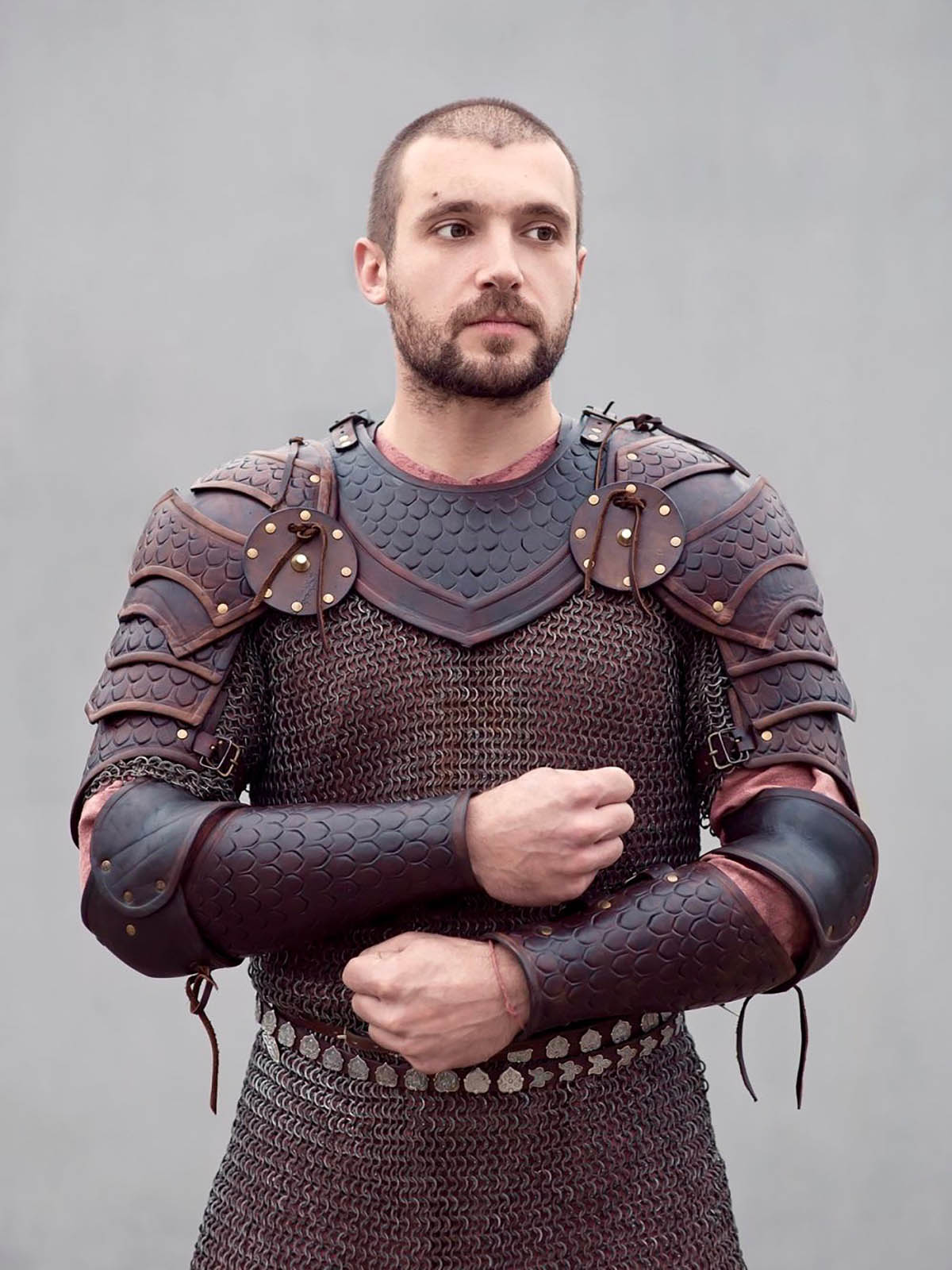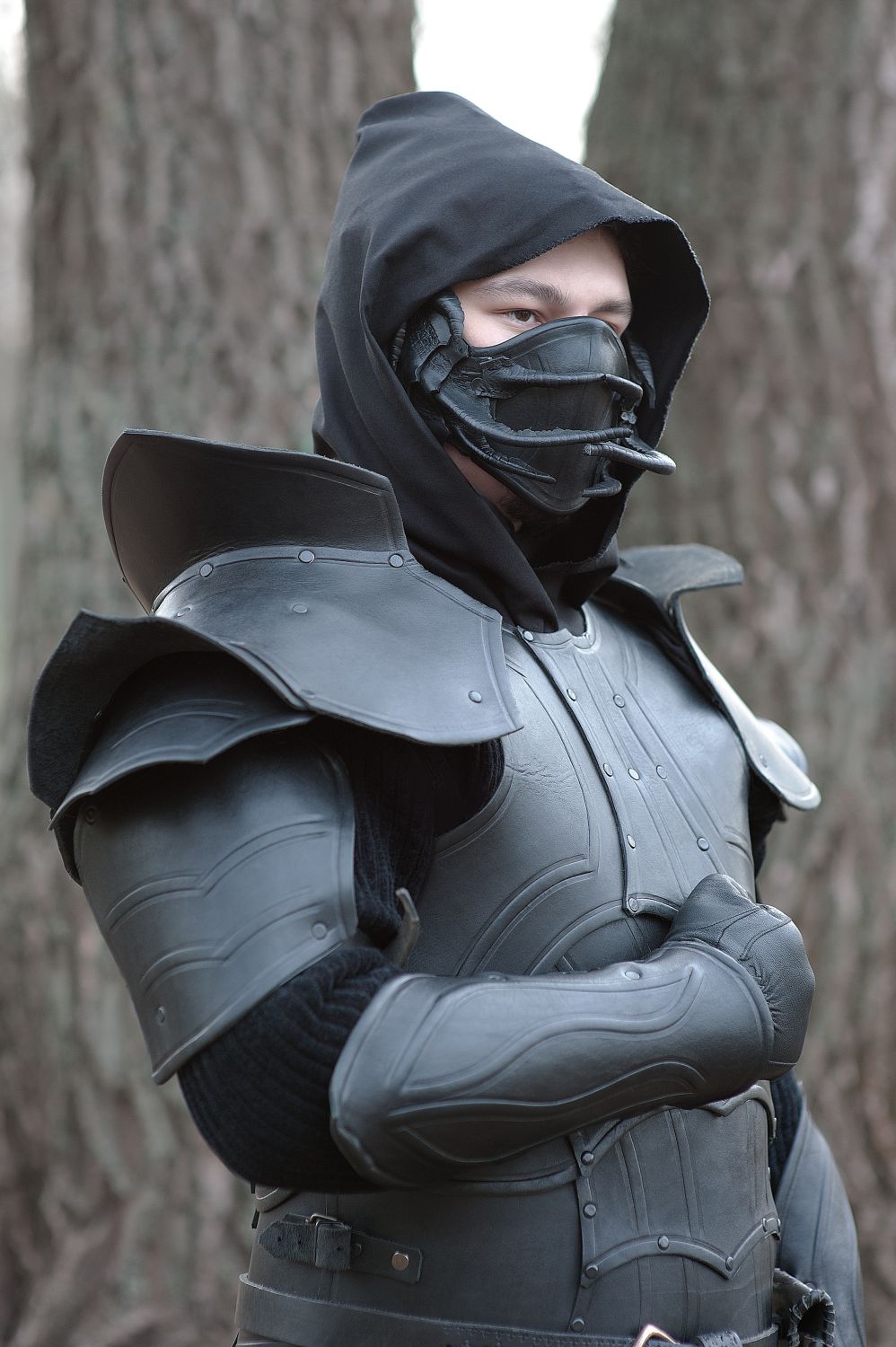 11. Leather armour. Here you may see armor protection for any part of body – as bracers and spaulders, so cuirasses, leather aketon and full sets. We use only the best natural leather of different colors to create our armor. Every detail, every plate and belts are cut by hands of our artisans.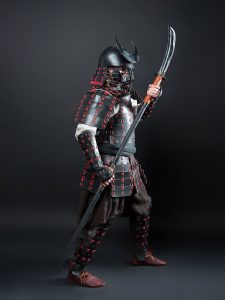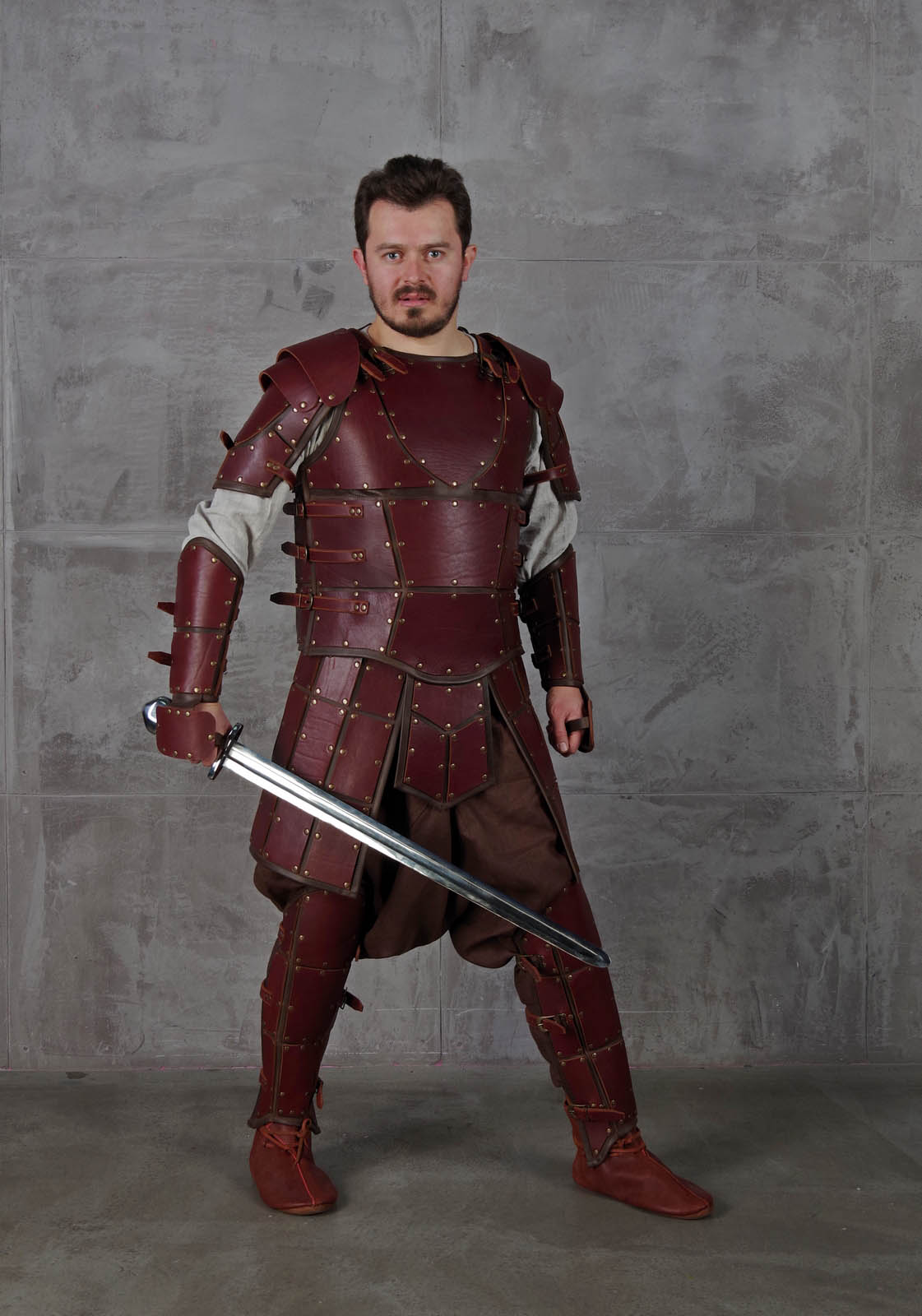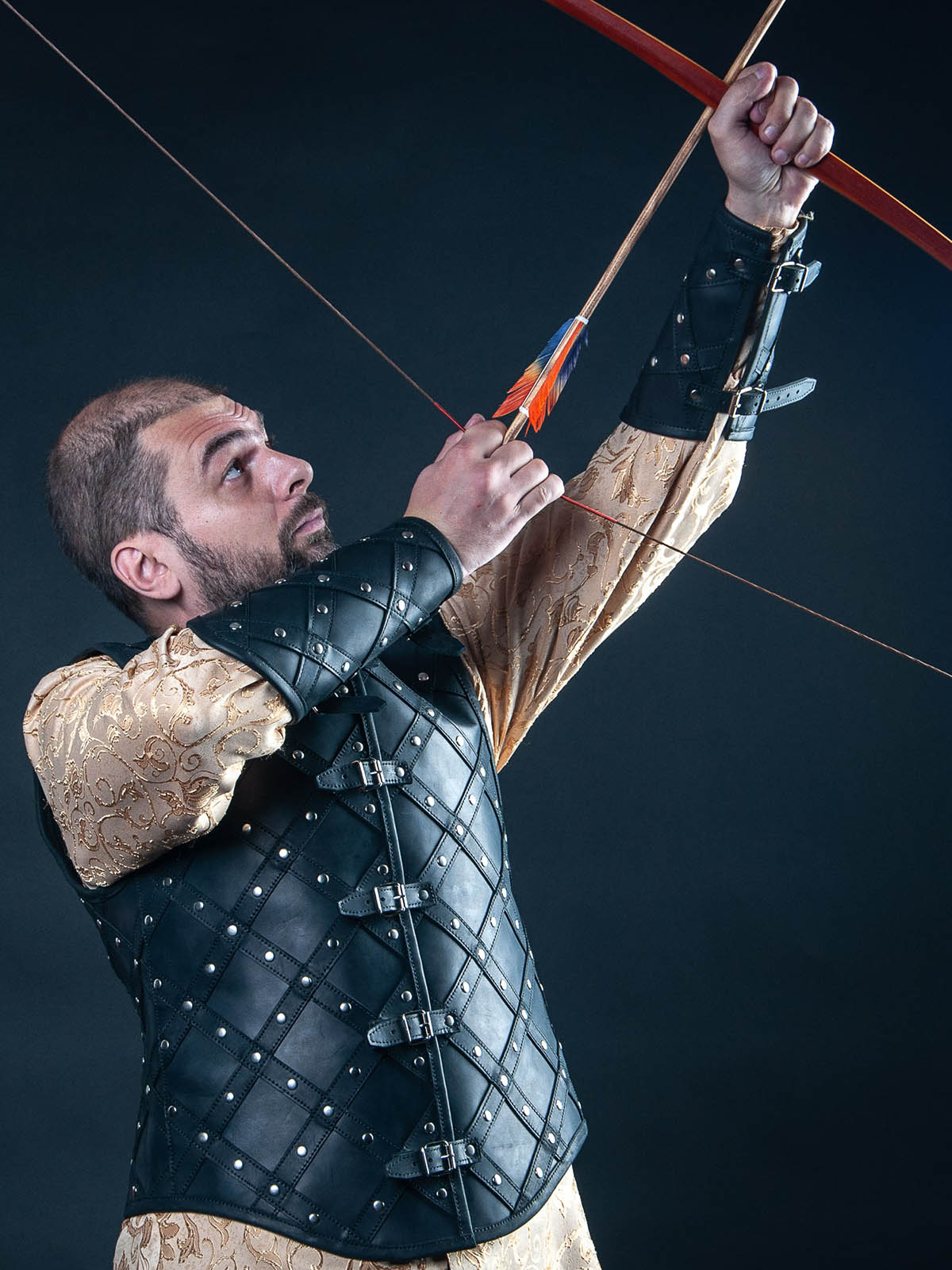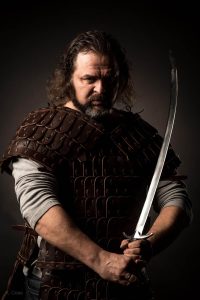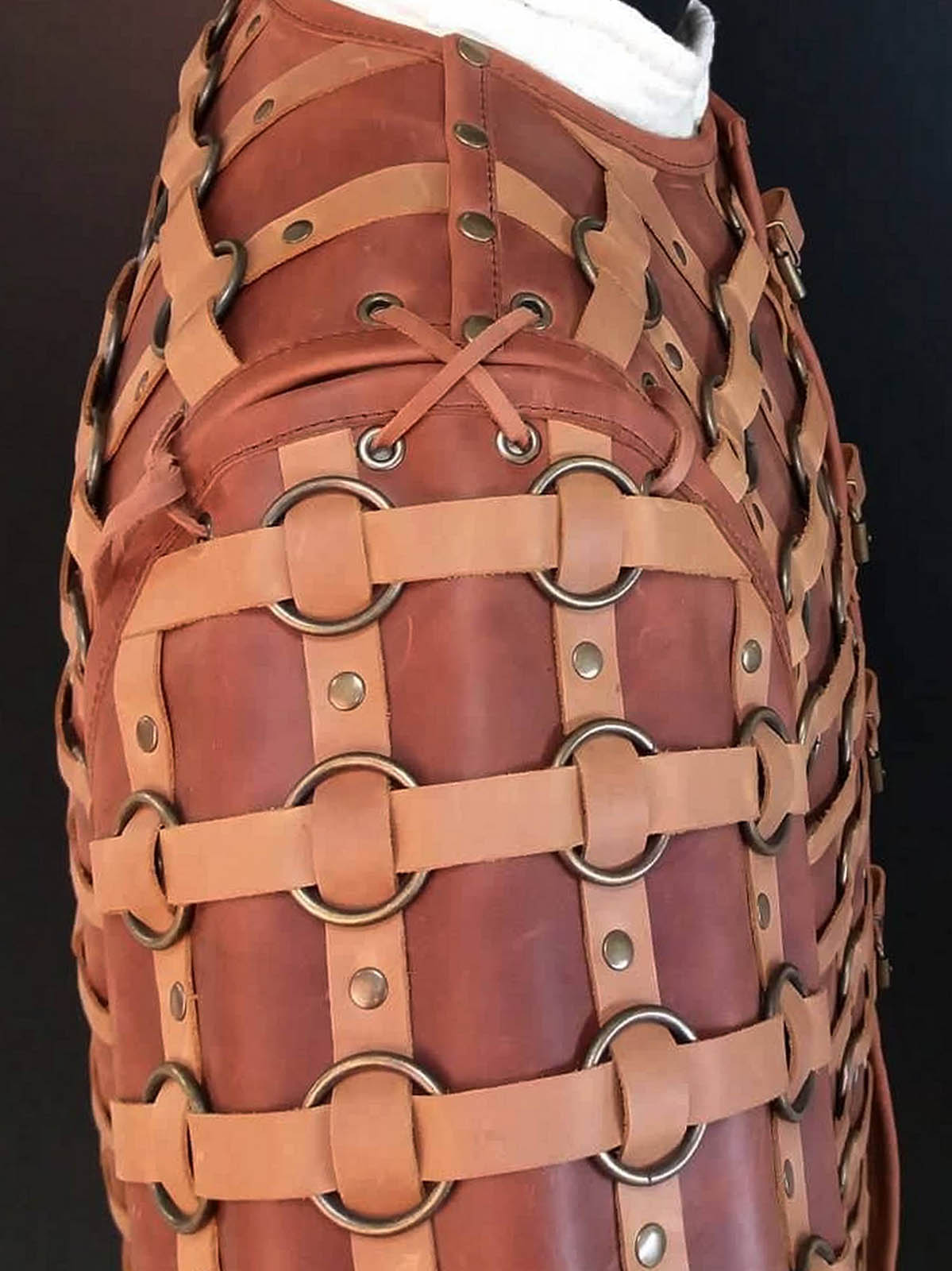 We always open to new ideas! Please send drafts/pictures/full description of armour that you would like to have to [email protected] and we will be happy to create it for you!