FAQ
How do I provide you with my measurements?
How much will the shipment cost for me?
What are the benefits of registering on this site?
Can I use content from this site?
If you have a question regarding our products which is not dealt with here, feel free to ask us using this e-mail address: [email protected]. Our managers will be glad to help you. We usually reply to e-mails within one working day, but sometimes it might take a few days. 
How do I pay?
Look through the catalog of our products and choose what you like. For the majority of our products you can also choose various optional features. Put the products into the cart, select your country and proceed to the payment. We accept payments via:
Moneybookers
Payment options include credit card payments (Visa, MasterCard, Maestro, AmEx and more), bank transfers (through a local bank), direct payment from your account balance and others,  depending on your country. 
Push Checkout button in the cart and you will be taken to the Moneybookers payment gateway.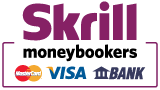 Bank transfer to Ukraine (in EUR or USD).
Please contact us directly at sales steel-mastery.com, if you prefer to use this payment option.

If you want to make payment via Paypal, please contact us at [email protected] for details.
As a rule, we accept 100% prepayment for the order and its shipping. However, for exclusive products or big volume orders we offer step-by-step payment. Please contact us if this is the case.
How do I provide you with my measurements?
After you have completed the checkout process, our system will check whether we need some additional info from you in order to start working on your order.  You will get an email with the request to enter the measurements which are lacking. 
Please take your measurements carefully. It's easy, just follow attentively our guidelines and visual aids. It's a good idea to ask someone to help you.
As product's price often depends on your size, we ask you to indicate a standards size (like M or L) while ordering the product.  It doesn't mean that the product will be made in this standard size, it will be made-to-measure, we use this only for the price correction. In order to find out what size you are, please see our standard sizes chart.
How do you ship orders?
Each product is carefully wrapped to avoid damaging and is accompanied by a repair set.
For shipment we use  National Post Service of Ukraine (Ukrposhta). Shipping time is about 10-20 days.

How much will the shipment cost for me?
The shipment price depends on your order's weight and your country. In order to find it out, just put the products you want to buy into the cart and select your country from the list below. The site will automatically calculate the shipment price.  
Please note that there are limits for weight and volume of a package, so if your order is too big or too heavy (over 18 kg), it will be separated into several packages. 
What are the benefits of registering on this site?
Creating a personal account will offer you many features:
you can  save all your measurements in your measurements profile, so you won't need to enter them every time you buy something;

you may create a few different measurements profiles, for ex., for you and your friends (convenient when making a group purchase);

you will be able to track the progress of your orders right inside your account;

if you qualify for a discount, it will be assigned to your account and  you will  always see your  personal discounted prices while shopping on the site;

you will be able to participate in our loyalty programs and  accrue bonuses and/or discounts;
Can I get a discount?
We offer you discount 5% in case of payment is made via bank transfer.
If you're a wholesale customer and want to make an order with total amount over 5000 EUR, we offer you to take a participation in our loyalty program. In this case please contact us for further information.
As well, stage payment on our web-site is possible when:
Total amount of order is more than 500 EUR – you can pay 50% as advanced payment, and 50% are paid on the fact of order's readiness.
Total amount of order is more than 1500 EUR – 40% is advanced payment, 30% are paid in the middle of production time (in 2-3 months after start of manufacturing – depending on the complication of product and total duration of manufacturing), 30% are paid in fact of order's readiness.
What is your return policy
Our main goal is to provide you with our excellent products and fully satisfy your expectations.
If you received your product and you don't like it for ANY reason, within 7 days after its receipt send it back to us and you'll get 100% refund. You need to enclose the postal slip which certifies the date when you received it and a copy of the postal receipt which certifies the date when you sent it back to us. You need to pay for the return shipping. The item must not be damaged or have any wear tracks. The refund is made upon our receipt of the item and will not include the shipping costs.
If through our fault the product does not correspond to your order, we will sort it out asap at our expence.  We will replace the bad item with a good one or refund to you its full price if:
you received a wrong item

item you received is defective

item doesn't correspond to the provided measurements 
In order to raise a claim, first you need to send us good quality photos of the bad item, showing the problem. Then you should send the item back to us, we make the refund or correct/replace it and send it back to you (everything at our cost).
If you placed an order and, before it has been shipped to you, decided to cancel it, we'll refund you 80% of its price + shipping costs you paid, after it's been sold on our website.
If you received an item which was evidently damaged during the transportation, please immediately raise a claim to the post service which delivered it.
Please use only usual post service to return the goods (not express courier). Otherwise we will not be able to refund you shipping costs.
What is your privacy policy?
Please read this privacy policy before using the site or submitting any personal information. By using the site, you are accepting the practices described in this privacy policy.

Collection of Information
We collect personally identifiable information, like names, postal addresses, email addresses, etc., only when voluntarily submitted by our visitors. The information you provide is used to fulfill your specific request (communicating with you, sending you the ordered products).

Cookie/Tracking Technology
This site uses cookie and tracking technology. Cookie and tracking technology are useful for gathering information such as browser type and operating system, tracking the number of visitors to the site, and understanding how visitors use the site. Cookies can also help customize the site for visitors.

Distribution of Information
We may share information with governmental agencies or other companies assisting us in fraud prevention or investigation. We may do so when: (1) permitted or required by law; or, (2) trying to protect against or prevent actual or potential fraud or unauthorized transactions; or, (3) investigating fraud which has already taken place. The information is not provided to these companies for marketing purposes.

Commitment to Data Security
Your personally identifiable information is kept secure. Only authorized employees, agents and contractors (who have agreed to keep information secure and confidential) have access to this information. All emails and newsletters from this site allow you to opt out of further mailings.

 
Can I use content from this site?
If you want to use our content for any reason, please contact us. Normally we allow its usage provided you made proper links to the source. Unauthorized use is not allowed.