Riguardo Casacca, tuniche e cotte
Mens tunic is a traditional outfit, which was typical for medieval times, namely Medieval Europe VIII-XV centuries, and also fantasy-style models.
We sew every item by hand according to individual parameters, personal regards of customer and medieval tunic patterns. You can order sca tunic, larp or fantasy tunic.
Also it is possible to make custom one tunic by your design, it could be:
sleeveless tunic
short sleeve tunic
long sleeve tunic
full length tunic
medieval hooded tunic
medieval long tunic
In order, to please our customers, we use different materials. So it could be:
cotton tunic
linen tunic
wool tunic
leather tunic
All the above materials, used to manufacture medieval tunic, can be in such colors:
black
white
green
dark green
blue
royal blue
brown
grey
red
If you need your tunic to be produced in ome other color, just give us a photo of it and we will find.
Our old fashioned or it is better to say historial tuincs are made in such variants:
greek tunic
viking tunic
roman tunic
renaissance tunic
templar tunic
middle ages tunic
To purchase one or few elements of medieval outfit, you need to do few simple steps:
Open the page of required product;
Choose fabric for you tunic or cotta;
Define the wished colour;
Add option of lining (if available);
Choose your size.
If you have any difficulties during the choosing of model or options, please contact us. We will help you to specify your size and required model.
Once all options are chosen, you need to add item to the cart and make a payment. After that, manager will contact you with measurement request and specification of order's details.
If you didn't find the wished piece of clothing in this section, we can make it individually for you. Just send picture with detailed description to [email protected]. Then we will advise you price and discuss details of order.
Starting the end of the 1st millennium, over the shirt men were wearing a tunic of thicker fabric. Most often such tunic had shorter sleeves, compared to the undershirt, or did not have them at all. Usually men were belting tunic with a belt or a simple rope, to which they could attach leather pouch, small bag or sheath.
Thanks to crusaders, who were returning from East, in the XII-XIII centuries, shirts and tunics became not only more beautiful, but also fitted more comfortable. Neckline gained another cut, bottom edge and wristbands were being decorated with lacing. Besides, tailors started to add bright embroidery or trim on clothes.
Cotta came in use in the middle of the XIII century. It had middle-thigh length or to the knee. For comfortable horse-riding, cottas had two cuts on the bottom edge – from the back and front, or on the the sides.
Tailors used thick and firm fabric for such garment – cloth, cotton or wool. Colour of cotta usually was contrast and brighter, than colour of the undershirt. Neckline cut had lacing or strings for fastening. Also, such model of medieval clothing could be decorated with embroidery, trimming on sleeves and bottom hem, insets or applications of fabrics of contrast colours.
Middle-class men were wearing upper dress of the cotta. It was called surcoat (French "sur cotte" – over the cotte). Usually, longer sleeves of contrast-coloured cotta were visible from under surcoat. Rich-decorated surcoat gained a great popularity in the end of the XIV century, especially at the European courts.
Knights were wearing padded gambeson over the cotta, and only then – plate armour.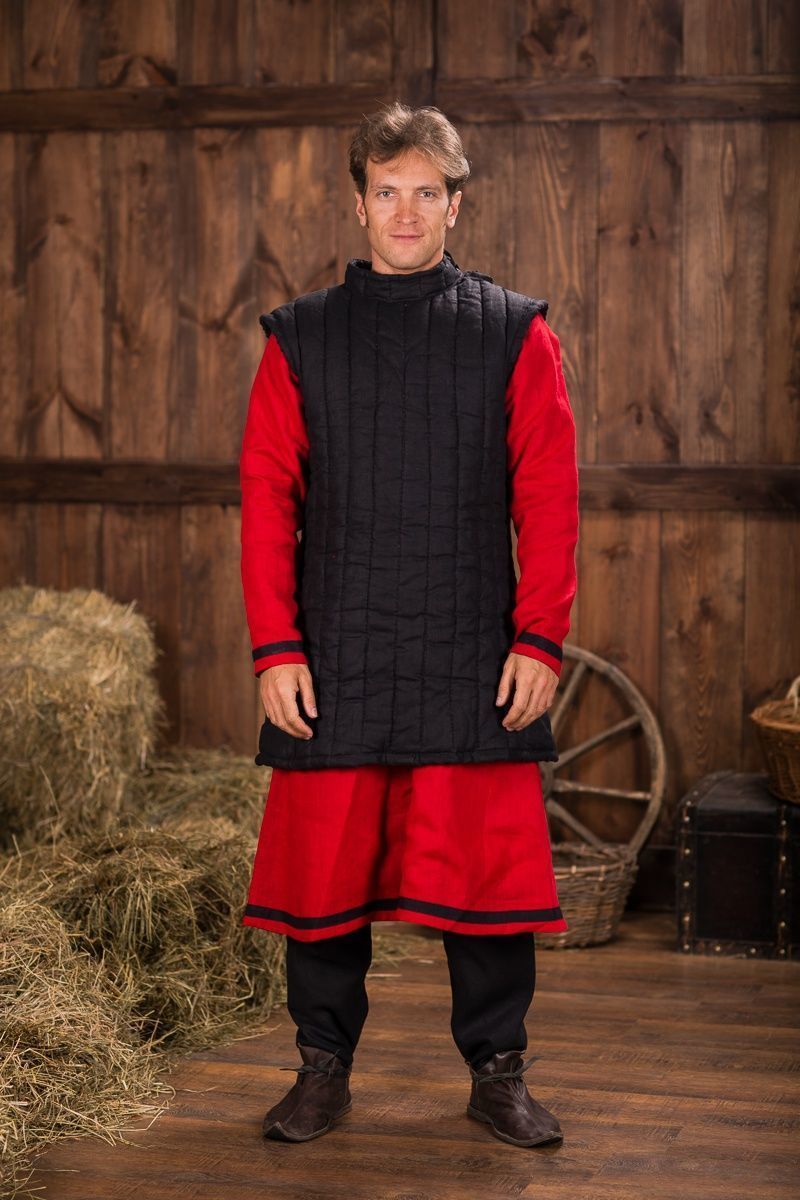 Such multi-layered outfit ("onion rule") was typical for all period of Middle Ages. It considered to be common and convenient to wear from three to six-seven elements of clothing on top of one another. Quantity of layers was showing financial and social state of owner.