Riguardo Intimo maschile
Welcome to section, which represents men's underwear. Here you can see various models of medieval undershirts and pants.
We handmade all chemises and braies by historical patterns. Every model is made by individual parameters of customer for more comfortable fitting and wearing.
You need to do few clicks to order the wished item:
Open the page of required model;
Choose fabric for your underwear - cotton or linen;
Select white or natural colour;
Define your size.
If there are some difficulties with choosing, please contact our manager. We will help you to specify your size and required model.
Once all options have chosen, you need to add item to the cart and make a payment. After that, manager will contact you with measurement request and specification of order's details.
If you did not find the wished model of undergarment of chemise in this section or want it in another colour, we can make it individually for you. Just send picture with detailed description to [email protected]. Then we will advise you price and discuss details of order.
Long pants braies were originally men's piece of clothing. To the XIV century, men started to wear shortened braies under the main clothes. Such pants were knee-length or mid-thigh length. As pants were worn only as undergarment, tailors used mostly white or uncoloured thin linen or cotton.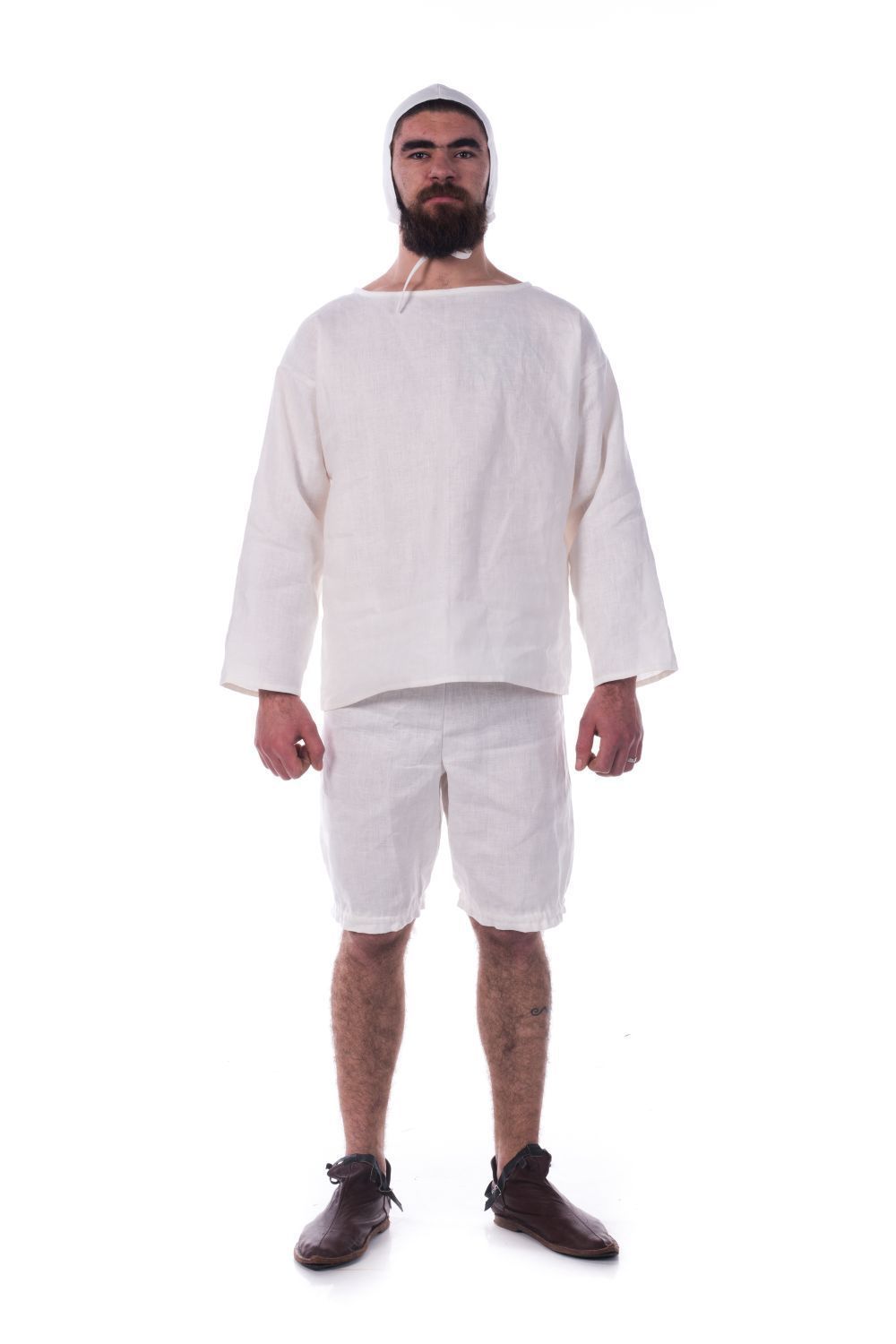 Men were pulling pants or chausses over braies, which were attached to the holes on the braies waistband or belt with strings. Quantity of strings were depending on the main costume - undress or festive one.
As undershirt, men were wearing chemise of mid-thigh length. In some cases chemise was belted with lace. Wide neckline and wristbands often had lacing too.
In the XII-XIV centuries, chemise had straight cut. To the end of the XV century, tailors started to add fancy elements to this piece of clothing. There were ruffling cuffs, wide turn-back collar or small stand-up collar, which could be decorated with buttons or beautiful lacing. It became actual in the early XVI century, as fashion of those times allowed demonstrating of undershirt through the cuts in sleeves of houppelande and pourpoint.
As well as braies, chemises were tailored of bleached linen or thin cotton. Some undergarment could be made of thin wool, like chemise of Thomas Becket (XII century), for example.
Thin men's headwear cale was a necessary attribute of every medieval outfit. Men of different social classes were covering head with a cale. It was linen or cotton cap, which consisted of two parts, sewn together. Most often, cale fitted a head rather tightly and was tied under the chin. It could be worn separately or under the hat or chaperon.
In the XV century, only common people kept using cale. Noble feudal were wearing one of its version, which did not have long lacing. Such cale was tailored of linen or wool of black colour, and usually worn under wide headwears of woven felt.