Riguardo Cappelli e pantaloni
In section "Chausses and pants" you'll find both models of medieval clothing for legs, and fantasy-style pants. All samples are custom-made according to the historical analogues by individual measures of customer.
You need to follow these steps to order one of the presented article:
Open the wished item;
Choose fabric for it;
Choose the wished colour;
Define your size.
If there are some difficulties with choosing, please contact our manager. We'll help you to specify your size and required model.
Once all options have chosen, you need to add item to the cart and make a payment. After that, manager will contact you with measurement request and specification of order's details.
If you didn't find the wished piece of clothing in this section, we can make it individually for you. Just send picture with detailed description to [email protected]. Then we will advise you price and discuss details of order.
Chausses – leg clothing, which was worn over the braies, had appeared in Europe approximately in the XII century. It looked like two separate stockings. Both, men and women were wearing them. Though, men chausses suffered more changes during the centuries.
Soft, but strong materials, such as linen or wool were used for sewing. Chausses were being tailored by individual measures and usually were cut on the bias for better stretchability of fabric.
As braies were rather long, it was unnecessary to sew too long chausses. They came up to the knees and were fixed with string or lacing under the knee.
In time, men's undergarment became shorter, and chausses – longer. So, men were fastening them to the belt or holes on the braies' waistband. Undergarment, in its turn, were tucked into the chausses.
There were two main models: the one with "rounded" upper edge, and the second one – hoses with "tails". The first type had almost straight (or a little curved) edges from the front side. This curved side was buttoned to the braies, or tied up with string. According to the old codex, such chausses were popular until the XV century, especially among the lower orders.
The second type was "tailed" chausses. They were noted for elongated edges from the back side. "Tails" of these chausses were covering lower back and were fixed to the holes in edges of upper clothing – pourpoint or jerkin. Primarily, such model was a part of noble outfit. And only from the XV century, groundlings and peasants borrowed such model .
Chausses were becoming higher. So, when length reached pelvis, men started to join two parts together. From the XVI century, pant legs were being sewn together from the back side. It is noteworthy, that hoses with separate stockings didn't lose their popularity and was in use as well.
As a matter of moral compulsion, it was shamelessly to leave braies uncovered. So men were wearing cotta or tunic of thigh length (and even longer, sometimes) to hide this area.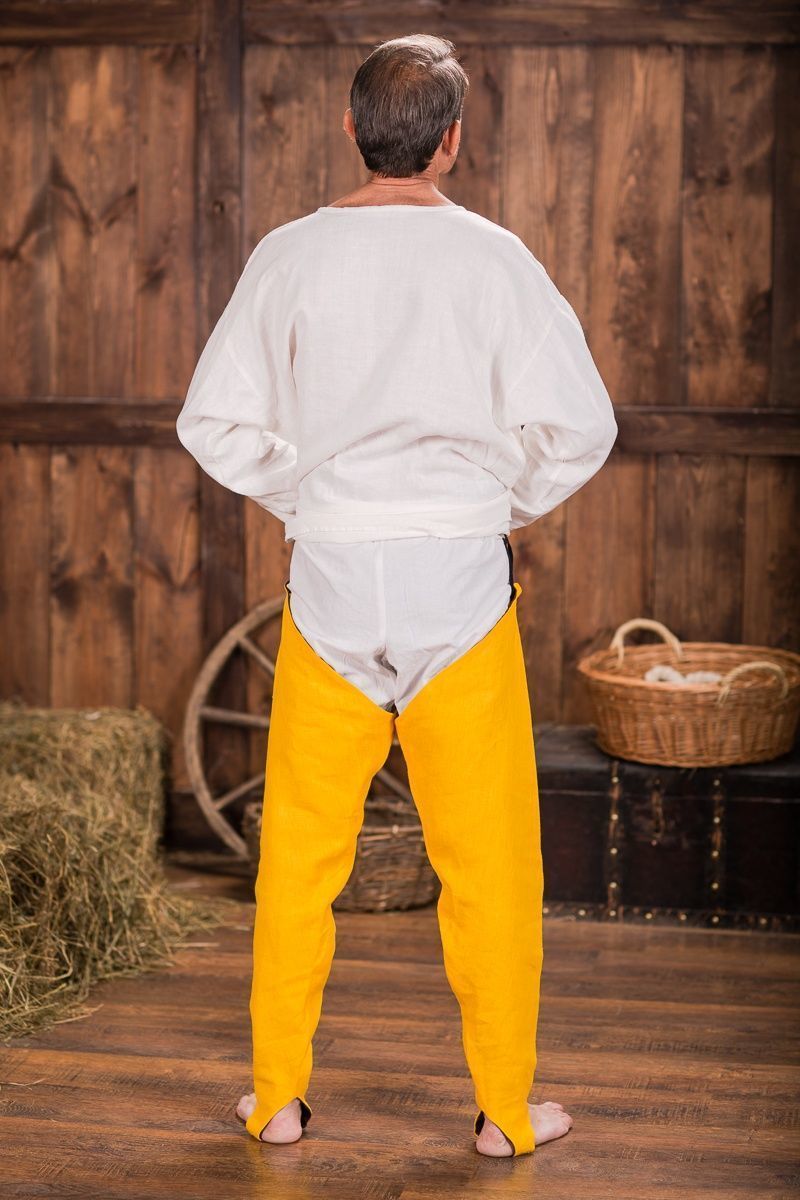 But in time, upper dress became shorter, so young court men often demonstrated bottom, when making a profound bow. So tailors started to sew hoses together for convenience and decencies.
Single-piece hoses were leaving underbelly uncovered. So, codpiece as a part of chausses had appeared. It was piece of cloth, which were sewn to the middle seam. Such part of clothing was not even hidden, but decorated to attract an attention.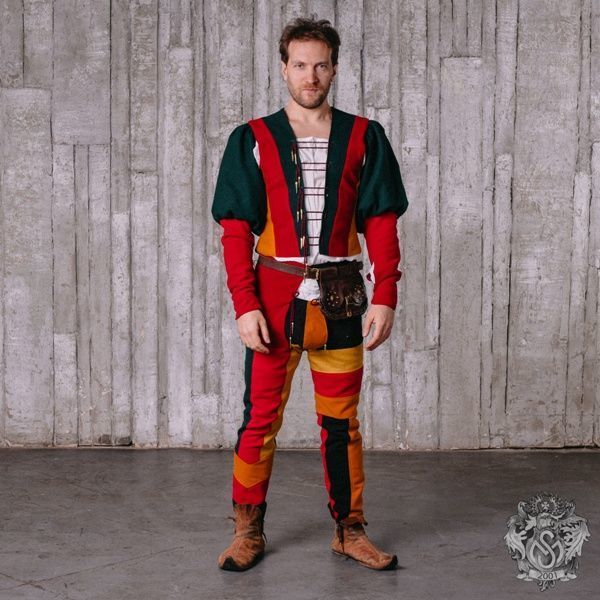 Up to XVI century, one-piece chausses had low waist and were fixated on the hips. Then waist height became higher, that made wearing more comfortable.