Über Mittelalterkostüme für Männer
Every medieval costume for men is tailored by hands according to customer's individual measures and personal regards. Medieval mens costumes conform to historical analogues, which you can see in paintings and miniatures. In our medieval clothing for men we use only natural materials. We use historically right patterns manufacturing our medieval costumes.
To order one of these custom-tailored men`s costume, you just need to do few simple steps:
Open the wished good;
Choose fabric for your outfit: cotton, linen or wool;
Define the required colour;
Add lining (if available);
Define your size.
If there are some difficulties with choosing, please contact our manager. We'll help you to specify your size and required model.
Once all options have chosen, you need to add item to the cart and make a payment. After that, manager will contact you with measurement request and specification of order's details.
If you didn't find the wished piece of clothing in this section, we can make it individually for you. Just send picture with detailed description to [email protected]. Then we will advise you price and discuss details of order.
Men's medieval costumes
Warrior's costume was rather simple in the XII century. There were undergarment – chemise (undershirt) and braies (pants). Such clothing was sewn of homespun cloth or linen. Chausses – thigh-length stockings – were worn over the braies. Chausses were not sewn together from top. And at the bottom, they had sole or footstrap – it allowed good fitting on the legs. With lacing or strings, chausses were attached to the holes in the waistband of braies or to the special belt.
Cotta – wide and comfortable piece of cloth – was usually worn over the men`s medieval shirt. Tailors sewn it of bright-coloured soft fabrics. Such type of medieval men`s clothing could be knee or calf length.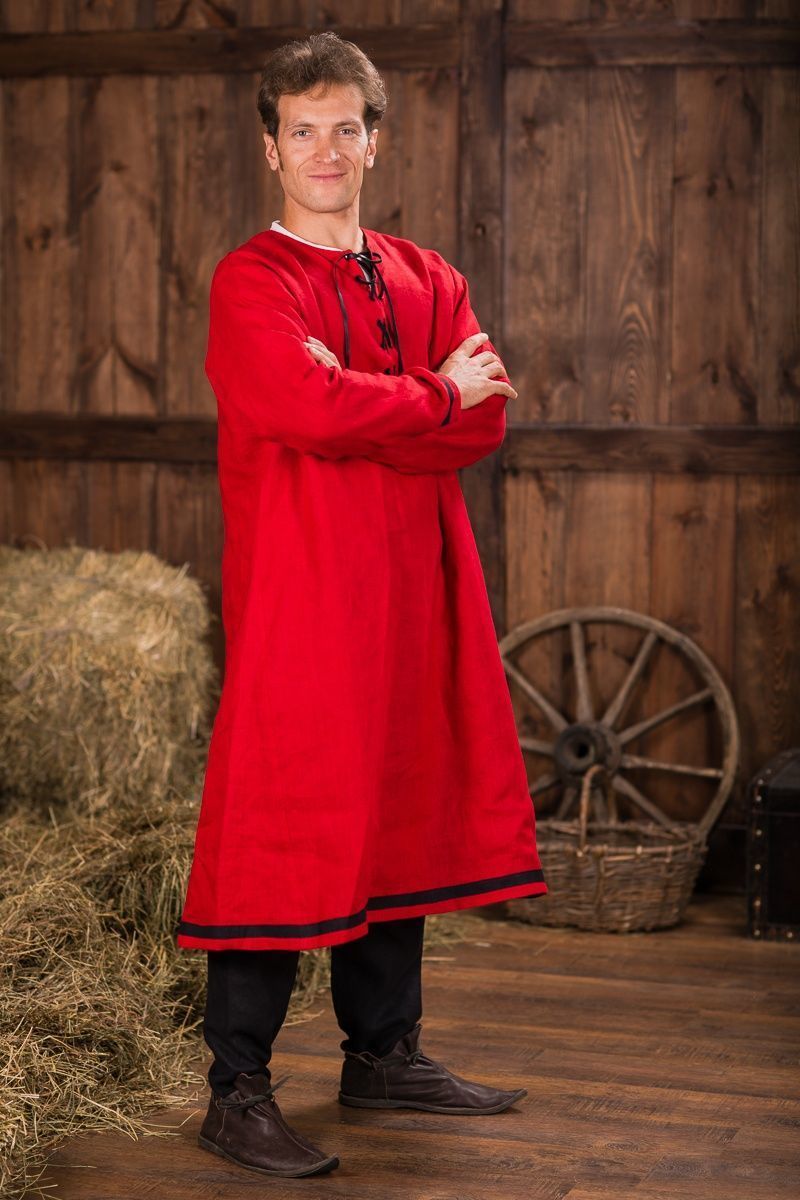 Sleeves of cotta were long, neckline was square of round shaped. Sleeveless upperdress surcoat was worn over the cotta. Such medieval dress for men was sewn of materials of contrast colours and was decorated with embroidery, trimming, buttons or fur.
If a man was from knighthood, he was wearing a gambeson over the cotta. This padded underarmour was used with chain mail or suit of armor. Gambeson protected warrior against the contact with cold metal and provided with additional protection. Due to its thickness, padded underarmour was buffing the blows and saving from the injuries and fractures.
The same aim had padded cap, which was worn under the helmet. It could be sewn with or without pelerine. Poorer warriors used to wear thinner cotton headwear cale.
In the XIV century, men were dressing houppelande (or houpelande) – long outer men`s medieval garb, widen to the down. This garment were typical for elderly feudals, merchants or prosperous citizens. It made an accent on the social state of owner and level of income. Houppelande was usually decorated with rich embroidery, beautiful applications, trim, buttons and fur or even with pearls. Headwear of bizzare form was completing this costume. It was called chaperon and had festoon edges and long "tail", which could be tied over the head or neck.
The younger representatives of European upper class of the XV century were dressing foppishly in the tight waist length doublets. Such middle age clothing for men had sleeves puffed from the top and tight on the wrists. Neckline cut and wristbands were usually fastened with buttons or lacing with metal points.
The most part of European knights were taking participation in crusading stunts. Costume of Crusader was rather simple: white (preferably) cotta over the long chemise. There was always a cross of knightly order on the chest and back of cotta. These knee-length garment had straight cut, and sometimes had lacing on the sides for better comfort.
Men`s renaissance clothing
But one of the most spectacular and eye-catching costume landsknechts had – free companions, who were hired from the lower classes. According to order of Maximilian I, Holy Roman Emperor, these warriors got a right to wear colourful and provoking cloths in opposition to other soldiers.
Landsknechts were wearing doublets with cuts on sleeves, where a bright men`s renaissance shirt was visible. Pants were two - or multicoloured. Two-coloured berets or hats with high crown capped the heads. All this magnificence was decorated with feathers, bows, trim and gems.