About Belt buckles
Welcome to section "Cast buckles". Here you can choose and order various types of buckles for belts of different width, which were used in medieval Europe and Asia.
All belt accessories are handmade of brass or bronze without extraneous impurity. Outer look of buckles conforms to survived historical analogues. If you have difficulties with choosing, please contact us with any questions.
Once you choose the wished item, you just need to add it to cart and proceed with payment. Then our manager will contact you with order confirmation. If you did not find the wished model of buckle, we can make it individually for you. Please send us pattern and detailed description to [email protected] Then we will be able to discuss details and quote you.
In medieval times, belts were very important accessory of every garment, whether military outfit or civil dress. And this is not surprising, as dresses did not have pockets these times. People were carrying all necessary things on the belt – pouches, writing materials, small bags. Besides, belts were fastening not only different pieces of clothing and cloaks, but shoes as well.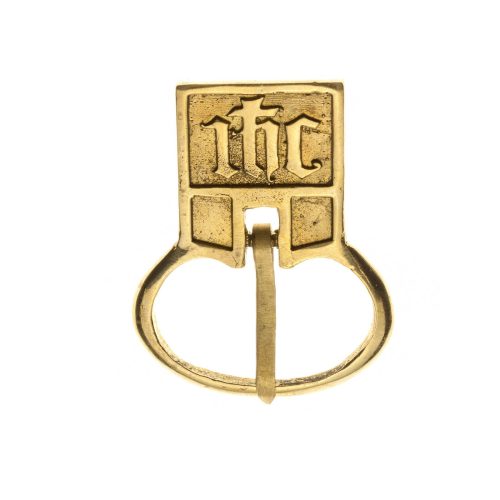 Concerning armour, brigandine and cuirasses had leather belts for fastening. Arm and leg protection had such type of fastener, as well as helmets and even weapon. Firm leather and cats buckles provided with reliable and firm connection, which could withstand any load. Various material was used for buckles – from bone to the precious metal. It was depending on the region of buckles' manufacture and social status of belt's owner.
Medieval buckles consisted of a frame and prong (tongue). In the XIII-XIV centuries, shape of the frame was mostly square-cut, lyrated or oval. Separate segment for belt attachment was not always present at the buckle. Sometimes a belt was simply wrapped over the back axis and was sewn down or riveted. Frames with circular cross-section were more widespread, than models with oval or square cross-section.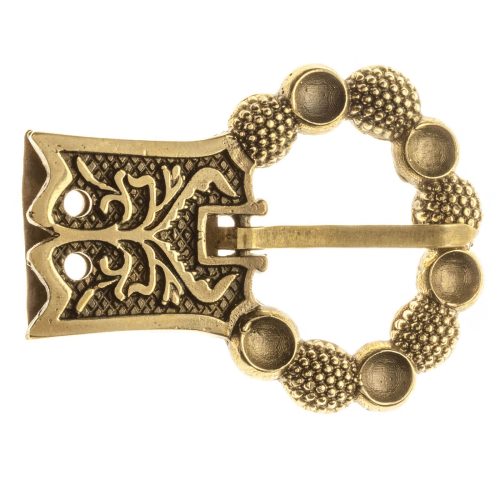 Manufacture of high-quality buckles for armour was a responsibility of professional armourers, as only they could estimate balance between size and soundness of buckle. At the same time, crafting of fine belt buckles for outfit of rich noblemen and the crowned heads was within royal jeweller's depth. Some works of court artisans were a real piece of art.